Home of the Golden Calf


August - 2002
Thursday - August 1, 2002
Thy Kingdom Come

Isa 9:6-7
6For unto us a child is born, unto us a son is given: and the government shall be upon his shoulder: and his name shall be called Wonderful, Counseller, The mighty God, The everlasting Father, The Prince of Peace.

7Of the increase of his government and peace there shall be no end, upon the throne of David, and upon his kingdom, to order it, and to establish it with judgment and with justice from henceforth even for ever. The zeal of the LORD of hosts will perform this.
KJV

Ps 145:10-13
10All thy works shall praise thee, O LORD; and thy saints shall bless thee.

11They shall speak of the glory of thy kingdom, and talk of thy power;

12To make known to the sons of men his mighty acts, and the glorious majesty of his kingdom.

13Thy kingdom is an everlasting kingdom, and thy dominion endureth throughout all generations.
KJV


Friday - August 2, 2002
The Wicked Lose to the Rebellious

Deut 9:1-7
9:1Hear, O Israel: Thou art to pass over Jordan this day, to go in to possess nations greater and mightier than thyself, cities great and fenced up to heaven,
2A people great and tall, the children of the Anakims, whom thou knowest, and of whom thou hast heard say, Who can stand before the children of Anak!
3Understand therefore this day, that the LORD thy God is he which goeth over before thee; as a consuming fire he shall destroy them, and he shall bring them down before thy face: so shalt thou drive them out, and destroy them quickly, as the LORD hath said unto thee.
4Speak not thou in thine heart, after that the LORD thy God hath cast them out from before thee, saying, For my righteousness the LORD hath brought me in to possess this land: but for the wickedness of these nations the LORD doth drive them out from before thee.
5Not for thy righteousness, or for the uprightness of thine heart, dost thou go to possess their land: but for the wickedness of these nations the LORD thy God doth drive them out from before thee, and that he may perform the word which the LORD sware unto thy fathers, Abraham, Isaac, and Jacob.
6Understand therefore, that the LORD thy God giveth thee not this good land to possess it for thy righteousness; for thou art a stiffnecked people.
7Remember, and forget not, how thou provokedst the LORD thy God to wrath in the wilderness: from the day that thou didst depart out of the land of Egypt, until ye came unto this place, ye have been rebellious against the LORD.
KJV


Saturday - August 3, 2002
First Coming and First and Second Returns

Ps 105:6-15
6O ye seed of Abraham his servant, ye children of Jacob his chosen.
7He is the LORD our God: his judgments are in all the earth.
8He hath remembered his covenant for ever, the word which he commanded to a thousand generations.
9Which covenant he made with Abraham, and his oath unto Isaac;
10And confirmed the same unto Jacob for a law, and to Israel for an everlasting covenant:
11Saying, Unto thee will I give the land of Canaan, the lot of your inheritance:
12When they were but a few men in number; yea, very few, and strangers in it.
13When they went from one nation to another, from one kingdom to another people;
14He suffered no man to do them wrong: yea, he reproved kings for their sakes;
15Saying, Touch not mine anointed, and do my prophets no harm.
KJV


Isa 41:8-14
8But thou, Israel, art my servant, Jacob whom I have chosen, the seed of Abraham my friend.

9Thou whom I have taken from the ends of the earth, and called thee from the chief men thereof, and said unto thee, Thou art my servant; I have chosen thee, and not cast thee away.

10Fear thou not; for I am with thee: be not dismayed; for I am thy God: I will strengthen thee; yea, I will help thee; yea, I will uphold thee with the right hand of my righteousness.

11Behold, all they that were incensed against thee shall be ashamed and confounded: they shall be as nothing; and they that strive with thee shall perish.

12Thou shalt seek them, and shalt not find them, even them that contended with thee: they that war against thee shall be as nothing, and as a thing of nought.

13For I the LORD thy God will hold thy right hand, saying unto thee, Fear not; I will help thee.

14Fear not, thou worm Jacob, and ye men of Israel; I will help thee, saith the LORD, and thy redeemer, the Holy One of Israel.
KJV


Sunday - August 4, 2002
Sunday Animation: Islamic culture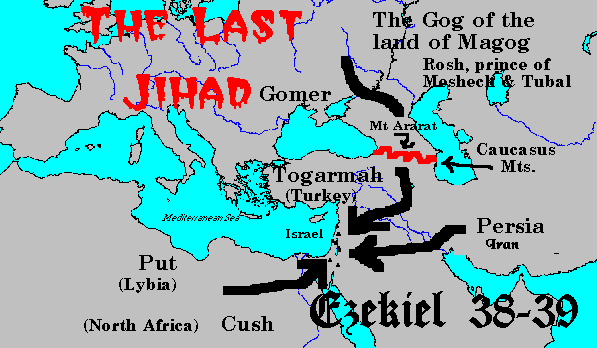 The End of Old Persia as Part of the Gog

Ezek 38:8-23
8After many days thou shalt be visited: in the latter years thou shalt come into the land that is brought back from the sword, and is gathered out of many people, against the mountains of Israel, which have been always waste: but it is brought forth out of the nations, and they shall dwell safely all of them.
9Thou shalt ascend and come like a storm, thou shalt be like a cloud to cover the land, thou, and all thy bands, and many people with thee.
10Thus saith the Lord GOD; It shall also come to pass, that at the same time shall things come into thy mind, and thou shalt think an evil thought:
11And thou shalt say, I will go up to the land of unwalled villages; I will go to them that are at rest, that dwell safely, all of them dwelling without walls, and having neither bars nor gates,
12To take a spoil, and to take a prey; to turn thine hand upon the desolate places that are now inhabited, and upon the people that are gathered out of the nations, which have gotten cattle and goods, that dwell in the midst of the land.
13Sheba, and Dedan, and the merchants of Tarshish, with all the young lions thereof, shall say unto thee, Art thou come to take a spoil? hast thou gathered thy company to take a prey? to carry away silver and gold, to take away cattle and goods, to take a great spoil?
14Therefore, son of man, prophesy and say unto Gog, Thus saith the Lord GOD; In that day when my people of Israel dwelleth safely, shalt thou not know it?
15And thou shalt come from thy place out of the north parts, thou, and many people with thee, all of them riding upon horses, a great company, and a mighty army:
16And thou shalt come up against my people of Israel, as a cloud to cover the land; it shall be in the latter days, and I will bring thee against my land, that the heathen may know me, when I shall be sanctified in thee, O Gog, before their eyes.
17Thus saith the Lord GOD; Art thou he of whom I have spoken in old time by my servants the prophets of Israel, which prophesied in those days many years that I would bring thee against them?
18And it shall come to pass at the same time when Gog shall come against the land of Israel, saith the Lord GOD, that my fury shall come up in my face.
19For in my jealousy and in the fire of my wrath have I spoken, Surely in that day there shall be a great shaking in the land of Israel;
20So that the fishes of the sea, and the fowls of the heaven, and the beasts of the field, and all creeping things that creep upon the earth, and all the men that are upon the face of the earth, shall shake at my presence, and the mountains shall be thrown down, and the steep places shall fall, and every wall shall fall to the ground.
21And I will call for a sword against him throughout all my mountains, saith the Lord GOD: every man's sword shall be against his brother.
22And I will plead against him with pestilence and with blood; and I will rain upon him, and upon his bands, and upon the many people that are with him, an overflowing rain, and great hailstones, fire, and brimstone.
23Thus will I magnify myself, and sanctify myself; and I will be known in the eyes of many nations, and they shall know that I am the LORD.
KJV

Sunday Animation: Islamic culture

Monday - August 5, 2002
The Seed of Ishmael Rejected

Gen 21:10-14
10Wherefore she said unto Abraham, Cast out this bondwoman and her son: for the son of this bondwoman shall not be heir with my son, even with Isaac.

11And the thing was very grievous in Abraham's sight because of his son.

12And God said unto Abraham, Let it not be grievous in thy sight because of the lad, and because of thy bondwoman; in all that Sarah hath said unto thee, hearken unto her voice; for in Isaac shall thy seed be called.

13And also of the son of the bondwoman will I make a nation, because he is thy seed.

14And Abraham rose up early in the morning, and took bread, and a bottle of water, and gave it unto Hagar, putting it on her shoulder, and the child, and sent her away: and she departed, and wandered in the wilderness of Beer-sheba.
KJV

Gal 4:22-31
2For it is written, that Abraham had two sons, the one by a bondmaid, the other by a freewoman.
23But he who was of the bondwoman was born after the flesh; but he of the freewoman was by promise.
24Which things are an allegory: for these are the two covenants; the one from the mount Sinai, which gendereth to bondage, which is Agar.
25For this Agar is mount Sinai in Arabia, and answereth to Jerusalem which now is, and is in bondage with her children.
26But Jerusalem which is above is free, which is the mother of us all.
27For it is written, Rejoice, thou barren that bearest not; break forth and cry, thou that travailest not: for the desolate hath many more children than she which hath an husband.
28Now we, brethren, as Isaac was, are the children of promise.
29But as then he that was born after the flesh persecuted him that was born after the Spirit, even so it is now.
30Nevertheless what saith the scripture? Cast out the bondwoman and her son: for the son of the bondwoman shall not be heir with the son of the freewoman.
31So then, brethren, we are not children of the bondwoman, but of the free.
KJV


Tuesday - August 6, 2002
The Right Way is the Only Way

Ps 1:1-6
1:1Blessed is the man that walketh not in the counsel of the ungodly, nor standeth in the way of sinners, nor sitteth in the seat of the scornful.

2But his delight is in the law of the LORD; and in his law doth he meditate day and night.

3And he shall be like a tree planted by the rivers of water, that bringeth forth his fruit in his season; his leaf also shall not wither; and whatsoever he doeth shall prosper.

4The ungodly are not so: but are like the chaff which the wind driveth away.

5Therefore the ungodly shall not stand in the judgment, nor sinners in the congregation of the righteous.

6For the LORD knoweth the way of the righteous: but the way of the ungodly shall perish.
KJV


John 14:5-7
5Thomas saith unto him, Lord, we know not whither thou goest; and how can we know the way?

6Jesus saith unto him, I am the way, the truth, and the life: no man cometh unto the Father, but by me.

7If ye had known me, ye should have known my Father also: and from henceforth ye know him, and have seen him.
KJV


Wednesday - August 7, 2002
The Fall of Babylon/Baghdad

Rev 18
18:1And after these things I saw another angel come down from heaven, having great power; and the earth was lightened with his glory.
2And he cried mightily with a strong voice, saying, Babylon the great is fallen, is fallen, and is become the habitation of devils, and the hold of every foul spirit, and a cage of every unclean and hateful bird.
3For all nations have drunk of the wine of the wrath of her fornication, and the kings of the earth have committed fornication with her, and the merchants of the earth are waxed rich through the abundance of her delicacies.
4And I heard another voice from heaven, saying, Come out of her, my people, that ye be not partakers of her sins, and that ye receive not of her plagues.
5For her sins have reached unto heaven, and God hath remembered her iniquities.
6Reward her even as she rewarded you, and double unto her double according to her works: in the cup which she hath filled fill to her double.
7How much she hath glorified herself, and lived deliciously, so much torment and sorrow give her: for she saith in her heart, I sit a queen, and am no widow, and shall see no sorrow.
8Therefore shall her plagues come in one day, death, and mourning, and famine; and she shall be utterly burned with fire: for strong is the Lord God who judgeth her.
9And the kings of the earth, who have committed fornication and lived deliciously with her, shall bewail her, and lament for her, when they shall see the smoke of her burning,
10Standing afar off for the fear of her torment, saying, Alas, alas, that great city Babylon, that mighty city! for in one hour is thy judgment come.
11And the merchants of the earth shall weep and mourn over her; for no man buyeth their merchandise any more:
12The merchandise of gold, and silver, and precious stones, and of pearls, and fine linen, and purple, and silk, and scarlet, and all thyine wood, and all manner vessels of ivory, and all manner vessels of most precious wood, and of brass, and iron, and marble,
13And cinnamon, and odours, and ointments, and frankincense, and wine, and oil, and fine flour, and wheat, and beasts, and sheep, and horses, and chariots, and slaves, and souls of men.
14And the fruits that thy soul lusted after are departed from thee, and all things which were dainty and goodly are departed from thee, and thou shalt find them no more at all.
15The merchants of these things, which were made rich by her, shall stand afar off for the fear of her torment, weeping and wailing,
16And saying, Alas, alas, that great city, that was clothed in fine linen, and purple, and scarlet, and decked with gold, and precious stones, and pearls!
17For in one hour so great riches is come to nought. And every shipmaster, and all the company in ships, and sailors, and as many as trade by sea, stood afar off,
18And cried when they saw the smoke of her burning, saying, What city is like unto this great city!
19And they cast dust on their heads, and cried, weeping and wailing, saying, Alas, alas, that great city, wherein were made rich all that had ships in the sea by reason of her costliness! for in one hour is she made desolate.
20Rejoice over her, thou heaven, and ye holy apostles and prophets; for God hath avenged you on her.
21And a mighty angel took up a stone like a great millstone, and cast it into the sea, saying, Thus with violence shall that great city Babylon be thrown down, and shall be found no more at all.
22And the voice of harpers, and musicians, and of pipers, and trumpeters, shall be heard no more at all in thee; and no craftsman, of whatsoever craft he be, shall be found any more in thee; and the sound of a millstone shall be heard no more at all in thee;
23And the light of a candle shall shine no more at all in thee; and the voice of the bridegroom and of the bride shall be heard no more at all in thee: for thy merchants were the great men of the earth; for by thy sorceries were all nations deceived.
24And in her was found the blood of prophets, and of saints, and of all that were slain upon the earth.
KJV


Thursday - August 8, 2002
Deut 9:1-7
9:1Hear, O Israel: Thou art to pass over Jordan this day, to go in to possess nations greater and mightier than thyself, cities great and fenced up to heaven,
2A people great and tall, the children of the Anakims, whom thou knowest, and of whom thou hast heard say, Who can stand before the children of Anak!
3Understand therefore this day, that the LORD thy God is he which goeth over before thee; as a consuming fire he shall destroy them, and he shall bring them down before thy face: so shalt thou drive them out, and destroy them quickly, as the LORD hath said unto thee.

Friday - August 9, 2002
Lev 26:15-19
15And if ye shall despise my statutes, or if your soul abhor my judgments, so that ye will not do all my commandments, but that ye break my covenant:

16I also will do this unto you; I will even appoint over you terror, consumption, and the burning ague, that shall consume the eyes, and cause sorrow of heart: and ye shall sow your seed in vain, for your enemies shall eat it.

17And I will set my face against you, and ye shall be slain before your enemies: they that hate you shall reign over you; and ye shall flee when none pursueth you.

18And if ye will not yet for all this hearken unto me, then I will punish you seven times more for your sins.

19And I will break the pride of your power; and I will make your heaven as iron, and your earth as brass:
KJV


Saturday - August 10, 2002
Only Isaac Chosen

Gen 25:8-10
8Then Abraham gave up the ghost, and died in a good old age, an old man, and full of years; and was gathered to his people.

9And his sons Isaac and Ishmael buried him in the cave of Machpelah, in the field of Ephron the son of Zohar the Hittite, which is before Mamre;

10The field which Abraham purchased of the sons of Heth: there was Abraham buried, and Sarah his wife.
KJV

Gen 17:19-21
19And God said, Sarah thy wife shall bear thee a son indeed; and thou shalt call his name Isaac: and I will establish my covenant with him for an everlasting covenant, and with his seed after him.

20And as for Ishmael, I have heard thee: Behold, I have blessed him, and will make him fruitful, and will multiply him exceedingly; twelve princes shall he beget, and I will make him a great nation.

21But my covenant will I establish with Isaac, which Sarah shall bear unto thee at this set time in the next year.
KJV


Sunday - August 11, 2002
Sunday Animation: No More Israel!
The Next Prophets of the Bible

Rev 11:1-7
11:1And there was given me a reed like unto a rod: and the angel stood, saying, Rise, and measure the temple of God, and the altar, and them that worship therein.

2But the court which is without the temple leave out, and measure it not; for it is given unto the Gentiles: and the holy city shall they tread under foot forty and two months.

3And I will give power unto my two witnesses, and they shall prophesy a thousand two hundred and threescore days, clothed in sackcloth.

4These are the two olive trees, and the two candlesticks standing before the God of the earth.

5And if any man will hurt them, fire proceedeth out of their mouth, and devoureth their enemies: and if any man will hurt them, he must in this manner be killed.

6These have power to shut heaven, that it rain not in the days of their prophecy: and have power over waters to turn them to blood, and to smite the earth with all plagues, as often as they will.

7And when they shall have finished their testimony, the beast that ascendeth out of the bottomless pit shall make war against them, and shall overcome them, and kill them.
KJV

Sunday Animation: No More Israel!

Monday - August 12, 2002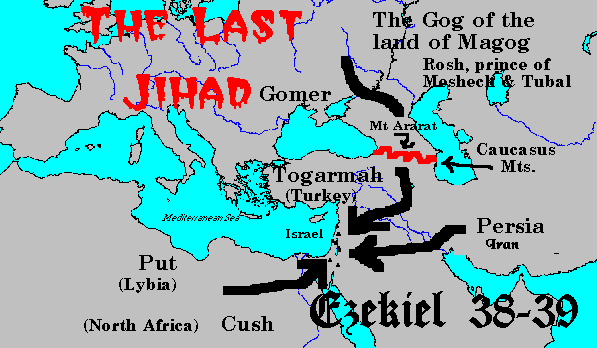 The Islamic Gog from the North Lead

Ezek 38:1-9
38:1And the word of the LORD came unto me, saying,
2Son of man, set thy face against Gog, the land of Magog, the chief prince of Meshech and Tubal, and prophesy against him,
3And say, Thus saith the Lord GOD; Behold I am against thee, O Gog, the chief prince of Meshech and Tubal:
4And I will turn thee back, and put hooks into thy jaws, and I will bring thee forth, and all thine army, horses and horsemen, all of them clothed with all sorts of armour, even a great company with bucklers and shields, all of them handling swords:
5Persia, Ethiopia, and Libya with them; all of them with shield and helmet:
6Gomer, and all his bands; the house of Togarmah of the north quarters, and all his bands: and many people with thee.
7Be thou prepared, and prepare for thyself, thou, and all thy company that are assembled unto thee, and be thou a guard unto them.
8After many days thou shalt be visited: in the latter years thou shalt come into the land that is brought back from the sword, and is gathered out of many people, against the mountains of Israel, which have been always waste: but it is brought forth out of the nations, and they shall dwell safely all of them.
9Thou shalt ascend and come like a storm, thou shalt be like a cloud to cover the land, thou, and all thy bands, and many people with thee.
KJV


Tuesday - August 13, 2002
The Great Islamic Sacrifice

Ezek 39:2-4
2And I will turn thee back, and leave but the sixth part of thee, and will cause thee to come up from the north parts, and will bring thee upon the mountains of Israel:

3And I will smite thy bow out of thy left hand, and will cause thine arrows to fall out of thy right hand.

4Thou shalt fall upon the mountains of Israel, thou, and all thy bands, and the people that is with thee: I will give thee unto the ravenous birds of every sort, and to the beasts of the field to be devoured.
KJV


Ezek 39:17-19
17And, thou son of man, thus saith the Lord GOD; Speak unto every feathered fowl, and to every beast of the field, Assemble yourselves, and come; gather yourselves on every side to my sacrifice that I do sacrifice for you, even a great sacrifice upon the mountains of Israel, that ye may eat flesh, and drink blood.

18Ye shall eat the flesh of the mighty, and drink the blood of the princes of the earth, of rams, of lambs, and of goats, of bullocks, all of them fatlings of Bashan.

19And ye shall eat fat till ye be full, and drink blood till ye be drunken, of my sacrifice which I have sacrificed for you.
KJV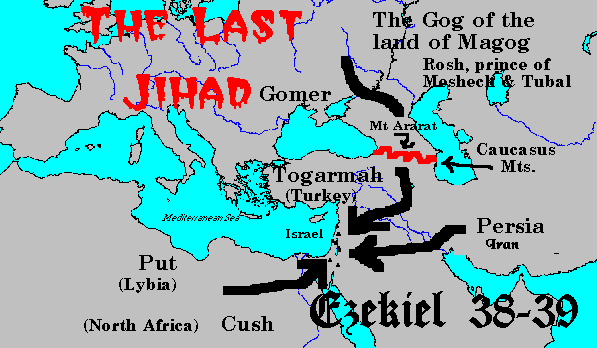 Wednesday - August 14, 2002
Ex 32:21-33:1
21And Moses said unto Aaron, What did this people unto thee, that thou hast brought so great a sin upon them?
22And Aaron said, Let not the anger of my lord wax hot: thou knowest the people, that they are set on mischief.
23For they said unto me, Make us gods, which shall go before us: for as for this Moses, the man that brought us up out of the land of Egypt, we wot not what is become of him.
24And I said unto them, Whosoever hath any gold, let them break it off. So they gave it me: then I cast it into the fire, and there came out this calf.
25And when Moses saw that the people were naked; (for Aaron had made them naked unto their shame among their enemies:)
26Then Moses stood in the gate of the camp, and said, Who is on the LORD's side? let him come unto me. And all the sons of Levi gathered themselves together unto him.
27And he said unto them, Thus saith the LORD God of Israel, Put every man his sword by his side, and go in and out from gate to gate throughout the camp, and slay every man his brother, and every man his companion, and every man his neighbour.
28And the children of Levi did according to the word of Moses: and there fell of the people that day about three thousand men.
29For Moses had said, Consecrate yourselves to day to the LORD, even every man upon his son, and upon his brother; that he may bestow upon you a blessing this day.
30And it came to pass on the morrow, that Moses said unto the people, Ye have sinned a great sin: and now I will go up unto the LORD; peradventure I shall make an atonement for your sin.
31And Moses returned unto the LORD, and said, Oh, this people have sinned a great sin, and have made them gods of gold.
32Yet now, if thou wilt forgive their sin--; and if not, blot me, I pray thee, out of thy book which thou hast written.
33And the LORD said unto Moses, Whosoever hath sinned against me, him will I blot out of my book.
34Therefore now go, lead the people unto the place of which I have spoken unto thee: behold, mine Angel shall go before thee: nevertheless in the day when I visit I will visit their sin upon them.
35And the LORD plagued the people, because they made the calf, which Aaron made.
KJV


Thursday - August 15, 2002
The Meek and Lowly

Matt 8:19-20
19And a certain scribe came, and said unto him, Master, I will follow thee whithersoever thou goest.

20And Jesus saith unto him, The foxes have holes, and the birds of the air have nests; but the Son of man hath not where to lay his head.
KJV


Matt 11:28-30
28Come unto me, all ye that labour and are heavy laden, and I will give you rest.

29Take my yoke upon you, and learn of me; for I am meek and lowly in heart: and ye shall find rest unto your souls.

30For my yoke is easy, and my burden is light.
KJV


Friday - August 16, 2002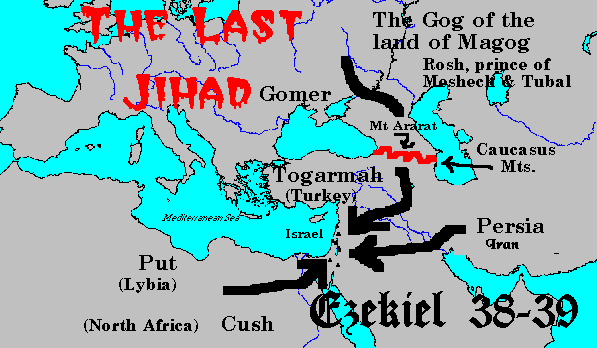 Psalms 79

79:1O God, the heathen are come into thine inheritance; thy holy temple have they defiled; they have laid Jerusalem on heaps.
2The dead bodies of thy servants have they given to be meat unto the fowls of the heaven, the flesh of thy saints unto the beasts of the earth.
3Their blood have they shed like water round about Jerusalem; and there was none to bury them.
4We are become a reproach to our neighbours, a scorn and derision to them that are round about us.
5How long, LORD? wilt thou be angry for ever? shall thy jealousy burn like fire?
6Pour out thy wrath upon the heathen that have not known thee, and upon the kingdoms that have not called upon thy name.
7For they have devoured Jacob, and laid waste his dwelling place.
8O remember not against us former iniquities: let thy tender mercies speedily prevent us: for we are brought very low.
9Help us, O God of our salvation, for the glory of thy name: and deliver us, and purge away our sins, for thy name's sake.
10Wherefore should the heathen say, Where is their God? let him be known among the heathen in our sight by the revenging of the blood of thy servants which is shed.
11Let the sighing of the prisoner come before thee; according to the greatness of thy power preserve thou those that are appointed to die;
12And render unto our neighbours sevenfold into their bosom their reproach, wherewith they have reproached thee, O Lord.
13So we thy people and sheep of thy pasture will give thee thanks for ever: we will shew forth thy praise to all generations.
KJV


Saturday - August 17, 2002
Rev 14:15-20
15And another angel came out of the temple, crying with a loud voice to him that sat on the cloud, Thrust in thy sickle, and reap: for the time is come for thee to reap; for the harvest of the earth is ripe.

16And he that sat on the cloud thrust in his sickle on the earth; and the earth was reaped.

17And another angel came out of the temple which is in heaven, he also having a sharp sickle.

18And another angel came out from the altar, which had power over fire; and cried with a loud cry to him that had the sharp sickle, saying, Thrust in thy sharp sickle, and gather the clusters of the vine of the earth; for her grapes are fully ripe.

19And the angel thrust in his sickle into the earth, and gathered the vine of the earth, and cast it into the great winepress of the wrath of God.

20And the winepress was trodden without the city, and blood came out of the winepress, even unto the horse bridles, by the space of a thousand and six hundred furlongs.
KJV


Sunday - August 18, 2002
Sunday Animation: The Baby Killers!
2 Kings 3:24-27
24And when they came to the camp of Israel, the Israelites rose up and smote the Moabites, so that they fled before them: but they went forward smiting the Moabites, even in their country.

25And they beat down the cities, and on every good piece of land cast every man his stone, and filled it; and they stopped all the wells of water, and felled all the good trees: only in Kir-haraseth left they the stones thereof; howbeit the slingers went about it, and smote it.

26And when the king of Moab saw that the battle was too sore for him, he took with him seven hundred men that drew swords, to break through even unto the king of Edom: but they could not.

27Then he took his eldest son that should have reigned in his stead, and offered him for a burnt offering upon the wall. And there was great indignation against Israel: and they departed from him, and returned to their own land.
KJV

Sunday Animation: The Baby Killers!

Monday - August 19, 2002
Bigotry is Sin

Num 12:1-11
12:1And Miriam and Aaron spake against Moses because of the Ethiopian woman whom he had married: for he had married an Ethiopian woman.

2And they said, Hath the LORD indeed spoken only by Moses? hath he not spoken also by us? And the LORD heard it.

3(Now the man Moses was very meek, above all the men which were upon the face of the earth.)
4And the LORD spake suddenly unto Moses, and unto Aaron, and unto Miriam, Come out ye three unto the tabernacle of the congregation. And they three came out.
5And the LORD came down in the pillar of the cloud, and stood in the door of the tabernacle, and called Aaron and Miriam: and they both came forth.
6And he said, Hear now my words: If there be a prophet among you, I the LORD will make myself known unto him in a vision, and will speak unto him in a dream.
7My servant Moses is not so, who is faithful in all mine house.
8With him will I speak mouth to mouth, even apparently, and not in dark speeches; and the similitude of the LORD shall he behold: wherefore then were ye not afraid to speak against my servant Moses?
9And the anger of the LORD was kindled against them; and he departed.
10And the cloud departed from off the tabernacle; and, behold, Miriam became leprous, white as snow: and Aaron looked upon Miriam, and, behold, she was leprous.
11And Aaron said unto Moses, Alas, my lord, I beseech thee, lay not the sin upon us, wherein we have done foolishly, and wherein we have sinned.
KJV


Tuesday - August 20, 2002
This Land Belongs to God

Lev 25:23-24
23The land shall not be sold for ever: for the land is mine; for ye are strangers and sojourners with me.

24And in all the land of your possession ye shall grant a redemption for the land.
KJV

Jer 2:6-7
6Neither said they, Where is the LORD that brought us up out of the land of Egypt, that led us through the wilderness, through a land of deserts and of pits, through a land of drought, and of the shadow of death, through a land that no man passed through, and where no man dwelt?

7And I brought you into a plentiful country, to eat the fruit thereof and the goodness thereof; but when ye entered, ye defiled my land, and made mine heritage an abomination.
KJV

Jer 16:18-21
18And first I will recompense their iniquity and their sin double; because they have defiled my land, they have filled mine inheritance with the carcases of their detestable and abominable things.

19O LORD, my strength, and my fortress, and my refuge in the day of affliction, the Gentiles shall come unto thee from the ends of the earth, and shall say, Surely our fathers have inherited lies, vanity, and things wherein there is no profit.

20Shall a man make gods unto himself, and they are no gods?

21Therefore, behold, I will this once cause them to know, I will cause them to know mine hand and my might; and they shall know that my name is The LORD.
KJV


Wednesday - August 21, 2002
Mark of the Beast

Rev 13:16-18
16And he causeth all, both small and great, rich and poor, free and bond, to receive a mark in their right hand, or in their foreheads:

17And that no man might buy or sell, save he that had the mark, or the name of the beast, or the number of his name.

18Here is wisdom. Let him that hath understanding count the number of the beast: for it is the number of a man; and his number is Six hundred threescore and six.

Rev 14:9-11
9And the third angel followed them, saying with a loud voice, If any man worship the beast and his image, and receive his mark in his forehead, or in his hand,

10The same shall drink of the wine of the wrath of God, which is poured out without mixture into the cup of his indignation; and he shall be tormented with fire and brimstone in the presence of the holy angels, and in the presence of the Lamb:

11And the smoke of their torment ascendeth up for ever and ever: and they have no rest day nor night, who worship the beast and his image, and whosoever receiveth the mark of his name.
KJV


Thursday - August 22, 2002
No Room For The Deceitful

Ps 101:1-8
101:1I will sing of mercy and judgment: unto thee, O LORD, will I sing.
2I will behave myself wisely in a perfect way. O when wilt thou come unto me? I will walk within my house with a perfect heart.
3I will set no wicked thing before mine eyes: I hate the work of them that turn aside; it shall not cleave to me.
4A froward heart shall depart from me: I will not know a wicked person.
5Whoso privily slandereth his neighbour, him will I cut off: him that hath an high look and a proud heart will not I suffer.
6Mine eyes shall be upon the faithful of the land, that they may dwell with me: he that walketh in a perfect way, he shall serve me.
7He that worketh deceit shall not dwell within my house: he that telleth lies shall not tarry in my sight.
8I will early destroy all the wicked of the land; that I may cut off all wicked doers from the city of the LORD.
KJV


Friday - August 23, 2002
Deut 18:9-14
9When thou art come into the land which the LORD thy God giveth thee, thou shalt not learn to do after the abominations of those nations.

10There shall not be found among you any one that maketh his son or his daughter to pass through the fire, or that useth divination, or an observer of times, or an enchanter, or a witch,

11Or a charmer, or a consulter with familiar spirits, or a wizard, or a necromancer.

12For all that do these things are an abomination unto the LORD: and because of these abominations the LORD thy God doth drive them out from before thee.

13Thou shalt be perfect with the LORD thy God.

14For these nations, which thou shalt possess, hearkened unto observers of times, and unto diviners: but as for thee, the LORD thy God hath not suffered thee so to do.
KJV


Saturday - August 24, 2002
The Mystery of the Jews

Dan 9:27
27And he shall confirm the covenant with many for one week: and in the midst of the week he shall cause the sacrifice and the oblation to cease, and for the overspreading of abominations he shall make it desolate, even until the consummation, and that determined shall be poured upon the desolate.
KJV

Rom 11:25-34
25For I would not, brethren, that ye should be ignorant of this mystery, lest ye should be wise in your own conceits; that blindness in part is happened to Israel, until the fulness of the Gentiles be come in.

26And so all Israel shall be saved: as it is written, There shall come out of Sion the Deliverer, and shall turn away ungodliness from Jacob:

27For this is my covenant unto them, when I shall take away their sins.

28As concerning the gospel, they are enemies for your sakes: but as touching the election, they are beloved for the fathers' sakes.

29For the gifts and calling of God are without repentance.

30For as ye in times past have not believed God, yet have now obtained mercy through their unbelief:

31Even so have these also now not believed, that through your mercy they also may obtain mercy.

32For God hath concluded them all in unbelief, that he might have mercy upon all.

33O the depth of the riches both of the wisdom and knowledge of God! how unsearchable are his judgments, and his ways past finding out!

34For who hath known the mind of the Lord? or who hath been his counseller?
KJV


Monday - August 26, 2002
Out of Zion

Ps 50:1-6
50:1The mighty God, even the LORD, hath spoken, and called the earth from the rising of the sun unto the going down thereof.

2Out of Zion, the perfection of beauty, God hath shined.

3Our God shall come, and shall not keep silence: a fire shall devour before him, and it shall be very tempestuous round about him.

4He shall call to the heavens from above, and to the earth, that he may judge his people.

5Gather my saints together unto me; those that have made a covenant with me by sacrifice.

6And the heavens shall declare his righteousness: for God is judge himself. Selah.
KJV


Tuesday - August 27, 2002
The Rod of Righteousness

Rev 2:26-29
26And he that overcometh, and keepeth my works unto the end, to him will I give power over the nations:

27And he shall rule them with a rod of iron; as the vessels of a potter shall they be broken to shivers: even as I received of my Father.

28And I will give him the morning star.

29He that hath an ear, let him hear what the Spirit saith unto the churches.
KJV

Rev 12:5
5And she brought forth a man child, who was to rule all nations with a rod of iron: and her child was caught up unto God, and to his throne.
KJV

Rev 19:15-16
15And out of his mouth goeth a sharp sword, that with it he should smite the nations: and he shall rule them with a rod of iron: and he treadeth the winepress of the fierceness and wrath of Almighty God.

16And he hath on his vesture and on his thigh a name written, KING OF KINGS, AND LORD OF LORDS.
KJV


---

Results of Righteousness


Isa 11:6-10
6The wolf also shall dwell with the lamb, and the leopard shall lie down with the kid; and the calf and the young lion and the fatling together; and a little child shall lead them.

7And the cow and the bear shall feed; their young ones shall lie down together: and the lion shall eat straw like the ox.

8And the sucking child shall play on the hole of the asp, and the weaned child shall put his hand on the cockatrice' den.

9They shall not hurt nor destroy in all my holy mountain: for the earth shall be full of the knowledge of the LORD, as the waters cover the sea.

10And in that day there shall be a root of Jesse, which shall stand for an ensign of the people; to it shall the Gentiles seek: and his rest shall be glorious.
KJV


Wednesday - August 28, 2002
The Judges Judged

Ex 23:6-7
6Thou shalt not wrest the judgment of thy poor in his cause.

7Keep thee far from a false matter; and the innocent and righteous slay thou not: for I will not justify the wicked.
KJV

Ex 22:22-24
22Ye shall not afflict any widow, or fatherless child.

23If thou afflict them in any wise, and they cry at all unto me, I will surely hear their cry;

24And my wrath shall wax hot, and I will kill you with the sword; and your wives shall be widows, and your children fatherless.
KJV


Thursday - August 29, 2002
The Holy Hill

Ps 99
99:1The LORD reigneth; let the people tremble: he sitteth between the cherubims; let the earth be moved.
2The LORD is great in Zion; and he is high above all the people.
3Let them praise thy great and terrible name; for it is holy.
4The king's strength also loveth judgment; thou dost establish equity, thou executest judgment and righteousness in Jacob.
5Exalt ye the LORD our God, and worship at his footstool; for he is holy.
6Moses and Aaron among his priests, and Samuel among them that call upon his name; they called upon the LORD, and he answered them.
7He spake unto them in the cloudy pillar: they kept his testimonies, and the ordinance that he gave them.
8Thou answeredst them, O LORD our God: thou wast a God that forgavest them, though thou tookest vengeance of their inventions.
9Exalt the LORD our God, and worship at his holy hill; for the LORD our God is holy.
KJV


Friday - August 30, 2002
PFLP Doomed from the Start

Jer 30:16-20

16Therefore all they that devour thee shall be devoured; and all thine adversaries, every one of them, shall go into captivity; and they that spoil thee shall be a spoil, and all that prey upon thee will I give for a prey.

17For I will restore health unto thee, and I will heal thee of thy wounds, saith the LORD; because they called thee an Outcast, saying, This is Zion, whom no man seeketh after.

18Thus saith the LORD; Behold, I will bring again the captivity of Jacob's tents, and have mercy on his dwellingplaces; and the city shall be builded upon her own heap, and the palace shall remain after the manner thereof.

19And out of them shall proceed thanksgiving and the voice of them that make merry: and I will multiply them, and they shall not be few; I will also glorify them, and they shall not be small.

20Their children also shall be as aforetime, and their congregation shall be established before me, and I will punish all that oppress them.
KJV


Saturday - August 31, 2002

Cutteth the Spear In Sunder

Ps 46:8-11
8Come, behold the works of the LORD, what desolations he hath made in the earth.

9He maketh wars to cease unto the end of the earth; he breaketh the bow, and cutteth the spear in sunder; he burneth the chariot in the fire.

10Be still, and know that I am God: I will be exalted among the heathen, I will be exalted in the earth.

11The LORD of hosts is with us; the God of Jacob is our refuge. Selah.
KJV


---
Read how the Old Testament lives in today's news!
January - 2001 February - 2001 March - 2001 April - 2001 May - 2001 June - 2001
July - 2001 August - 2001 September - 2001 October - 2001 November - 2001 December - 2001
January - 2002 February - 2002 March - 2002 April - 2002 May - 2002 June - 2002 July - 2002
Edited by DDSrail - September 14, 2000