Blinded Veterans Association

Southern Piedmont Chapter

North Carolina Regional Group

---
Current Southern Piedmont Chapter Officers for 2006
Don D. Srail, Salisbury - President

Jerry Mingo, Kannopolis - Vice President

Marshall Yandle, Charlotte - Secretary

William Miller, Concord - Treasurer

Clevus Robinson, Kannopolis - Sgt. of Arms

Martha Black, Charlotte - Chaplin

Warren Dobsin, Morresville - Public Relations
North Carolina's Three Regions
The state is divided into three distinct topographical regions: the Coastal Plain, the Piedmont Plateau, and the Blue Ridge/Appalachian Mountains.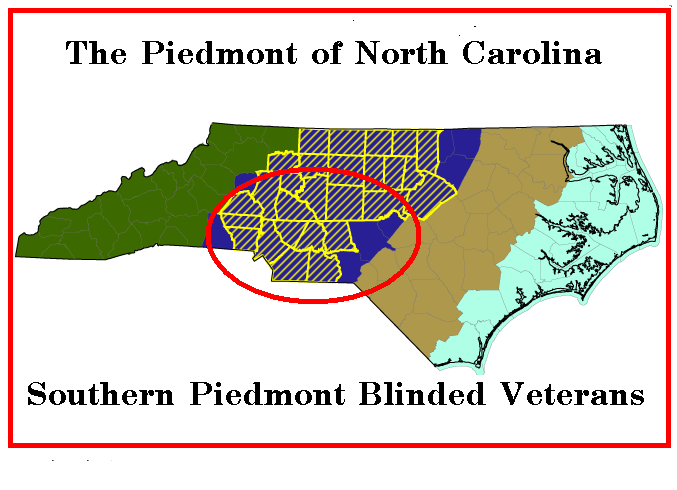 Contact: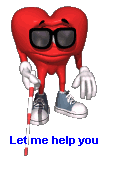 Don D. Srail - President
200 Ferrell Lane
Salisbury, NC. 28147
704-638-5714
---
We will have Lewis Williams Veterans Social Service Officer as our guest speaker for our September 7, 2006 meeting. We will hear what services are available to us through his offices.

Join in the discussion, and let us challenge any problems you may be having with Social Services. Your input and past experiences can be aired during our open air session after his presentation.

Notice: All Blinded Veterans living in Rowan County.

704-636-1144

We now have van service to our meetings in Concord through RITA.

Call 704-636-1144 the day before, and they will pick you up at your door. The driver will deliver you back to your door with a full belly of Golden Coral food at a cost of $9.00 for the food, drink, and tip paid to Golden Coral. The van service is $3.00 for both pick up and delivery back. You must be signed up with RITA for this service. Just call the above number, identify yourself as a new blinded veteran rider, and they will take care of the rest. Call me if you have any questions at 704-638-5714.
---
Isaiah 42:16

וְהוֹלַכְתִּי עִוְרִים בְּדֶרֶךְ לֹא יָדָעוּ בִּנְתִיבוֹת לֹא־יָדְעוּ אַדְרִיכֵם אָשִׂים מַחְשָׁךְ לִפְנֵיהֶם לָאוֹר וּמַעֲקַשִּׁים לְמִישׁוֹר אֵלֶּה הַדְּבָרִים עֲשִׂיתִם וְלֹא עֲזַבְתִּים׃

And I will bring the blind by a way that they knew not;

I will lead them in paths that they have not known:

I will make darkness light before them, and crooked things straight.

These things will I do unto them, and not forsake them

KJV

Friend, I have found this verse in the Bible a great help in struggling with my blindness. I have found it is true that there are ways that I knew not about how I would regain what I thought was lost forever with the loss of my sight. God has shown me paths that I have not known on how to survive in a sighted world. The darkness has been made light through many improvements in technology. My CCTV, and Zoom Text supplied through the VA has opened my study of Hebrew once more. To a Biblical language major this is a most wondrous thing. The crooked has been made straight through the Blind Rehab Center in August, Ga. I learned how to correctly use my blind stick in manual training class. This was all paid through the VA. I know it is God working through the VA for me, and my greatest comfort is to know that in my blindness I'm not forsaken by the God of the Bible.

Friend, we of the Blinded Veterans Association, Southern Piedmont Group, North Carolina Regional Chapter want to share our fellowship with you. We want to help our fellow blinded veterans. We want to rekindle that feeling of buddies that we had in the service. Let me give you a warm welcome, and invitation to come to our meetings.

Don D. Srail - President
---
BVA National - http://www.bva.org/