June - 2001

Friday - June 1, 2001
Homosexuals more likely to molest kids, study reports
May 30, 2001
By Ken Walker
LOUISVILLE, Ky. (BP)--A social researcher who has studied sexual behavior for 24 years believes the Boy Scouts of America (BSA) has sound reasons for maintaining its prohibition against gay scoutmasters.

A homosexual cannot automatically be considered a child molester, said Judith Reisman, president of the Institute for Media Education in suburban Louisville, Ky.

But with 17-24 percent of boys being abused by age 18, nearly as many as the 25 percent of girls, there is cause for concern, she said.

Since heterosexuals outnumber the homosexual population about 44 to 1, as a group the incidence of homosexuals molesting children is up to 40 times greater than heterosexuals, she said.

"You're looking at a much higher rate of abuse," said Reisman, a former university research professor who recently completed a study titled, "Crafting Gay Children." "The Department of Justice just released data and the rate of abuse are off the charts."

BSA's policy has been the subject of constant attacks from gay activists, who have convinced a number of school boards to oust the Scouts from board property.

In a story that aired Apr. 1 on CBS, "60 Minutes" also questioned its validity. After California congressman Dana Rohrabacher called the prohibition common sense, reporter Lesley Stahl remarked that common sense turns out to be a myth.

According to the FBI and several clinical studies published in reputable journals, gay men aren't more likely to sexually abuse boys, she said.

"In fact, the largest database of child molesters in the country shows that those who molest boys are over three times more likely to be heterosexual in their adult relationships than homosexual," she said.

But Reisman points to figures from a 1991 population study by the U.S. Department of Commerce.

It showed that 8 million girls were abused by age 18 by heterosexual men, a ratio of 1 victim to 11 adult men. However, 6-8 million boys were abused by age 18 by 1-2 million adult homosexuals, a ratio of 3-5 victims for every gay adult.

Questioned about Reisman's claims, CBS stuck by its story.

This report is not politically correct. It matters not what the truth is today. All that matters is political correctness. Homosexuality has become a propaganda war where the truth is not a factor to the vast majority of the news media. The propaganda war has been won, but the sweetness of victory is lost with the reality of AIDS.
Dr. Francis Schaeffer rightly recognized the bottom step of a falling culture in the acceptance of homosexuality. God says it is an abomination. Homosexuality will never be an acceptable lifestyle in the coming Kingdom. Propaganda will not be part of God's Kingdom. Only truth will be proclaimed.
Lev 18:22-24
22 Thou shalt not lie with mankind, as with womankind: it is abomination.

23 Neither shalt thou lie with any beast to defile thyself therewith: neither shall any woman stand before a beast to lie down thereto: it is confusion.

24 Defile not ye yourselves in any of these things: for in all these the nations are defiled which I cast out before you:
KJV



Lev 20:13
13 If a man also lie with mankind, as he lieth with a woman, both of them have committed an abomination: they shall surely be put to death; their blood shall be upon them.
KJV



Deut 22:5
5 The woman shall not wear that which pertaineth unto a man, neither shall a man put on a woman's garment: for all that do so are abomination unto the LORD thy God.
KJV



Luke 16:15
15 And he said unto them, Ye are they which justify yourselves before men; but God knoweth your hearts: for that which is highly esteemed among men is abomination in the sight of God.
KJV
******************************
HIV on Rise in Young Gay Men
Black Males' Infection Rate Especially High in Possible 'Resurgent Epidemic'
By David Brown
Washington Post Staff Writer
Friday, June 1, 2001; Page A01
Young gay men are contracting the AIDS virus at a rate not seen in more than a decade, federal health officials reported yesterday.

Saturday - June 2, 2001
PLO LOSES VALUABLE ICON IN HUSSEINI

Faisal al-Husseini, the top PLO figure in Jerusalem, died of a heart attack while visiting Kuwait on Thursday. Mourning Palestinians are calling him an "honest" leader and world media are hailing his "moderate" credentials, but both labels beg explanations.

Palestinian businesses are being ordered closed for three days in honor of Husseini, a leading spokesman of the Palestinian nationalist movement whose body was to be flown to Amman today for eventual burial in Jerusalem. Hundreds of grieving Palestinians were paying their respects today at his offices in Orient House, the historic family home of his prominent al-Husseini clan that has also served for years as the highly-symbolic PLO headquarters in "Al Quds."

Husseini, 61, died early today in his hotel room in Kuwait City. PLO chief Yasser Arafat cut short a visit to Belgium to return to Ramallah to receive Husseini's coffin. On Friday morning, his body is to pass from Ramallah to Orient House and then through Damascus Gate, to be buried in a family plot near the Al-Aqsa mosque compound - otherwise known as the Temple Mount - in Jerusalem.

It is still unclear whether or not Arafat will be permitted to attend Husseini's burial on the Temple Mount. Prime Minister Ariel Sharon is to make the final decision on whether Israel will allow Arafat into the Old City, where he has not stepped foot since the 1967 Six-Day War.
The potential for some incident is great as a result of this death by fate. I would be surprised if this does not develop into an even greater incident then when Sharon visited the Temple Mount. I suspect there will be death as a result. I'm sure Israel will somehow be blamed for both the death of Husseini, and the resulting riots which are almost sure to happen.
Job 20:4-7
4 Knowest thou not this of old, since man was placed upon earth,

5 That the triumphing of the wicked is short, and the joy of the hypocrite but for a moment?

6 Though his excellency mount up to the heavens, and his head reach unto the clouds;

7 Yet he shall perish for ever like his own dung: they which have seen him shall say, Where is he?
KJV
Arafat blames Israel for Husseini's death
By Lamia Lahoud, David Rudge, and News Agencies
PA Chairman Yasser Arafat yesterday blamed Israel for the death of Faisal Husseini, claiming his fatal heart attack was caused by tear gas fired at him.
***********************************************************
DEADLIEST ACT OF TERROR IN 5 YEARS; SUICIDE BOMBER AT BEACH: 17 DEAD, 70 INJURED IN TEL AVIV DISCO EXPLOSION
15 Dead in Tel Aviv Suicide Blast
By Havakuk Levinson
Reuters
Friday, June 1, 2001; 6:05 p.m. EDT

TEL AVIV, Israel -- A suicide bomber killed at least 15 people and wounded more than 30 others on Tel Aviv's seafront promenade in the worst attack since a Palestinian uprising erupted eight months ago, Israeli police reported. Witnesses said the explosion occurred at the entrance to a nightclub filled with teen-agers on the promenade, a popular entertainment area of discos and cafes filled with weekend revellers.
**************************************
ICEJ NEWS - SPECIAL UPDATE
PALESTINIAN SUICIDE BOMBER STRIKES TEL AVIV BEACHFRONT

Following a relatively violent-free funeral procession for senior PLO leader Faisal Husseini in Jerusalem's Old City on Friday, a Palestinian suicide bomber detonated himself outside a crowded nightclub on the Tel Aviv beachfront late this evening, killing at least 17 people and wounding some 85 others, including as many as fourteen in serious condition. Most of the dead and wounded are Israeli teenagers.
*******************************************
IDF sending crack units into W. Bank


By Amir Oren
Ha'aretz Correspondent


The IDF's presence in the West Bank will be beefed up by several special forces units in order to improve security on the roads, the general staff decided yesterday.

Some of the teams will operate undercover, lying in ambush for Palestinian attacks, while others will be high-profile, demonstrating a presence on the roads. The decision was approved by Defense Minister Benjamin Ben-Eliezer.

The IDF is also preparing for a possible decision by Prime Minister Ariel Sharon to launch a new offensive in the territories if the Palestinians do not respond soon to his unilateral cease-fire.
************************************************************8
Friday, June 1, 2001
Destruction of the Palestinian Authority in two days

JERUSALEM ? Israeli Prime Minister Ariel Sharon has been presented with a plan calling for the destruction of the Palestinian Authority in two days.

"It's clear that the continuation of the terrorism and the restraint cannot continue for much longer, not more than a few days," Israeli President Moshe Katsav told state-owned Israel Radio on Friday.

The plan presented by National Infrastructure Minister Avigdor Lieberman would launch an Israeli military invasion of at least six major cities in the West Bank and another four in the Gaza Strip, Middle East Newsline reported. Israeli troops would be given at least two days to destroy Palestinian military installations, weapons factories and arresting leaders of the Palestinian insurgency.

Sunday - June 3, 2001
(Saturday, 19:00) Special Update: Israel to give Arafat chance to end violence, before launching military response


By Aluf Benn, Ha'aretz Correspondent and Ha'aretz Staff



After a five-hour meeting Saturday, the cabinet decided to move to internationally isolate Palestinian Authority Chairman Yasser Arafat, but against any immediate military response to the suicide bomb attack which killed seventeen young people outside a Tel Aviv nightclub Friday night. Senior diplomatic sources said Israel would wait to see if Arafat acted to end the violence before responding.

If this move fails to produce results, Israel will take military action against the vital interests of the Palestinian Authority and the terror infrastructure in the areas under its control. According to the diplomatic sources, this would come in the form of pinpoint operations rather than a wide-ranging military response, so as not to endanger growing world support for Israel, in particular U.S. backing.

Yasser Arafat, under intense international pressure to call for an end to the violence, announced at a press conference in the West Bank city of Ramallah early Saturday afternoon that he would make every effort to end the bloodshed and to bring about an unconditional cease-fire. Arafat, who condemned the attack as a "tragic operation against civilians," added that he would exert his "utmost efforts to stop the bloodshed of our people and the Israeli people, and to do all that is needed to achieve an immediate and unconditional, real and effective cease-fire."

There was no immediate sign, however, that Arafat had passed this message down the chain of command of his PA security services. Skeptical government ministers suggested Arafat's declaration was aimed at satisfying world opinion and warding off an Israeli retaliatory strike. They said they had little hope that Arafat's pronouncement would be converted into practical orders, in particular the arrest of Islamic militants – released during the early weeks of the Intifada – and the gathering of illegal weapons. "His declaration is not clear enough," said Foreign Minister Shimon Peres. "We will judge according to the results."

I believe this is Arafat's last chance. I think he knows it also. This will be the crucial decision for the Palestinians if they will ever have some semblance of peace. There can be no word game playing. Israel is here to stay. The Palestinians must decide how they are going to deal with this reality. The poison of hate is far too deep in my estimation. I think it is too late for Arafat now. What he has sown is now out of control. I look to the North for the real Jihad. Arafat and the Palestinians are just too weak. I watch to see how the rest of Islam reacts to the events now taking place in Israel. The end must be near. It is not just the Palestinians who must submit to God's coming Kingdom. It is the whole world. It is not just Islam, but all religions including apostate Christianity. The Day of the LORD will be the day God judges the hearts of all. God will know who is willing to submit to His Jewish King, and will enter the Kingdom. The rest will find only the wrath of the lamb.
Rev 6:16-17
16 And said to the mountains and rocks, Fall on us, and hide us from the face of him that sitteth on the throne, and from the wrath of the Lamb:

17 For the great day of his wrath is come; and who shall be able to stand?
KJV


Isa 2:12
12 For the day of the LORD of hosts shall be upon every one that is proud and lofty, and upon every one that is lifted up; and he shall be brought low:
KJV

Isa 13:6-9
6 Howl ye; for the day of the LORD is at hand; it shall come as a destruction from the Almighty.

7 Therefore shall all hands be faint, and every man's heart shall melt:

8 And they shall be afraid: pangs and sorrows shall take hold of them; they shall be in pain as a woman that travaileth: they shall be amazed one at another; their faces shall be as flames.

9 Behold, the day of the LORD cometh, cruel both with wrath and fierce anger, to lay the land desolate: and he shall destroy the sinners thereof out of it.
KJV

Jer 46:10
10 For this is the day of the Lord GOD of hosts, a day of vengeance, that he may avenge him of his adversaries: and the sword shall devour, and it shall be satiate and made drunk with their blood: for the Lord GOD of hosts hath a sacrifice in the north country by the river Euphrates.
KJV

Ezek 30:3-5
3 For the day is near, even the day of the LORD is near, a cloudy day; it shall be the time of the heathen.

4 And the sword shall come upon Egypt, and great pain shall be in Ethiopia, when the slain shall fall in Egypt, and they shall take away her multitude, and her foundations shall be broken down.

5 Ethiopia, and Libya, and Lydia, and all the mingled people, and Chub, and the men of the land that is in league, shall fall with them by the sword.
KJV

Joel 2:1
2:1 Blow ye the trumpet in Zion, and sound an alarm in my holy mountain: let all the inhabitants of the land tremble: for the day of the LORD cometh, for it is nigh at hand;
KJV

Obad 15
15 For the day of the LORD is near upon all the heathen: as thou hast done, it shall be done unto thee: thy reward shall return upon thine own head.
KJV

Monday - June 4, 2001
Is it War, War, War?
Is it just too Late?
Is the Poison of Hate just too Deep?
Arafat orders his security chiefs to halt all attacks


Skepticism rampant that cease-fire cosmetic


By Amos Harel, Aluf Benn and Daniel Sobelman
Ha'aretz Correspondents and Agencies


In the past two days Palestinian Authority Chairman Yasser Arafat has ordered the heads of several PA security forces to work on halting terrorist attacks against Israeli targets, defense establishment sources say.
*************************************************
Hamas man from Qalqilyah bombed disco


By Daniel Sobelman and Amos Harel
Ha'aretz Correspondents and Agencies


The Dolphi-Disco suicide bomber was Sa'id Hutari, 22, from Qalqilyah refugee camp in the West Bank, according to a statement Hamas released yesterday. The radical Islamic movement said Hutari was a Hamas supporter, but it did not take responsibility for the terrorist attack that left 19 people dead.
***************************************************
"Jane's Foreign Report"

London, The United Kingdom of England, Scotland, Wales and Northern Ireland
24 May 2001
Arafat's 'Martyrs Plan'


WELL-placed Israeli sources claim that the new hardline prime minister, Ariel Sharon, will apply indirect and gradual pressure on the president of the Palestinian authority, Yasser Arafat, that will drive him slowly but surely out of Gaza and the West Bank, forcing him to carry on his intifada outside the Occupied Territories. Well-placed Palestinian sources, however, disagree. Says one: "Arafat will never leave the West Bank and Gaza to go back to exile. He would prefer to die here."

Sharon, who calls Arafat a war criminal, has let the secret services off their leash. Special forces, with the help of helicopter gunships and civilian agents, have killed 22 senior Palestinian officers. Israeli agents working inside Arab countries were recalled to base and ordered to target Arafat's lieutenants. The same order went out to the frogman-commandos of Flotilla 13 and the infantry commandos of Sayeret Matkal.

Unexpectedly, Sharon is winning support from the big middle class, which normally supports the Labour party and the Peace Now movement. The middle class, it seems, is fed up with Arafat and his policy.
SACRIFICE HUNDREDS

Palestinian sources say Arafat will die before giving up his fight and will not surrender power and authority to Sharon. The Palestinian source quoted Arafat as saying that he was working on a 'martyrs plan' which meant that he was willing to sacrifice hundreds more of his own people as suicide bombers andnot bow to Sharon.

Our source said Arafat intended to goad Sharon into committing barbarous acts of cruelty against the Palestinians that would turn international opinion against the Israelis.

Al-Assad gets a message from Putin Syria-Russia, Politics, 5/30/2001

The Syrian President Bashar al-Assad on Tuesday received a message from the Russian President Vladimir Putin. It was conveyed by the Russian envoy Yegveny Primakov; about the tense situation in the region which threatens of increasing tension because of the Israeli practices. .........
According to the Russian embassy in Damascus; Primakov will visit today ( Wednesday) the tomb of the late Syrian President Hafez al-Assad in al- Qurdaha.

Later Primakov will head for Egypt and then to Libya and Tunisia and news reports he will also visit Lebanon.

An analyst in Damascus said that Putin is trying to revive the role Moscow used to play in the region as a strategic ally for several Arab states before the collapse of the former Soviet Union.

Israeli news report Syrian-Russain weapon deal Syria-Russia, Military, 5/31/2001

Israeli intelligence sources have reported that Russia is seeking to conclude weapon deals with Syria.

Israeli T.V. said Russia offered Syria selling her five modern reconnaissance planes. These planes are part of a one billion dollar- weapon deal. This deal has been discussed since Syrian Defence Minister 1st Lt.Gen. Mustafa Tlass visited Moscow recently. .........
The Israeli Internet site also said Sharon warned President Putin that this is considered as a Russian participation in the coming war.


Israel seems to have made up it's mind. It is going to war with the Palestinian Authority. It won't be much of a war since the PA is weak. They only talk big, but in reality they are no match for Israel. All attempts at peace with the Palestinians have failed. I doubt Israel has many choices left. It is not the PA, but the reaction of Islam that must be watched. It is the larger Jihad that is the real danger. Should this lead toward a maelstrom of hate rhetoric coming out of the North, I would expect the prophecy in Ezekiel 38 & 39 to take place. An invasion of Israel from North, East, and South. An Islamic Jihad forcing God to act in defense of Israel. It would be the end of Islam. I suspect a temporary peace may be forced upon Israel's immediate neighbors by strength of arms. It will never be accepted by the rest of Islam. I'm convinced these events are all leading to the establishing of the Kingdom of Heaven that John the Baptist proclaimed at the first coming of Christ! We now know it will happen at Christ's Second Coming! After the destruction of Islam, and all other religious and apostate opposition.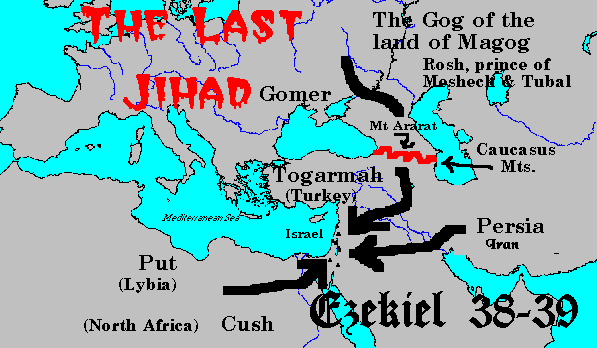 Matt 3:1-2
3:1 In those days came John the Baptist, preaching in the wilderness of Judaea,

2 And saying, Repent ye: for the kingdom of heaven is at hand.
KJV



Matt 4:16-17
16 The people which sat in darkness saw great light; and to them which sat in the region and shadow of death light is sprung up.

17 From that time Jesus began to preach, and to say, Repent: for the kingdom of heaven is at hand.
KJV



Matt 10:5-7
5 These twelve Jesus sent forth, and commanded them, saying, Go not into the way of the Gentiles, and into any city of the Samaritans enter ye not:

6 But go rather to the lost sheep of the house of Israel.

7 And as ye go, preach, saying, The kingdom of heaven is at hand.
KJV



Matt 18:1-3
18:1 At the same time came the disciples unto Jesus, saying, Who is the greatest in the kingdom of heaven?

2 And Jesus called a little child unto him, and set him in the midst of them,

3 And said, Verily I say unto you, Except ye be converted, and become as little children, ye shall not enter into the kingdom of heaven.
KJV
Read: Mishpat, - This Place, - The Second Woe, - The Last Jihad, - The Gentile Stranger in a Jewish Dispensation. You will find them Biblical, and eye opening.



Tuesday - June 5, 2001
It is all on the Line!
Countdown: Palestinians brace for invasion
SPECIAL TO WORLD TRIBUNE.COM
Monday, June 4, 2001
TEL AVIV — Israeli Prime Minister Ariel Sharon had hours to decide yesterday on a plan to invade Palestinian areas Monday in response to a Palestinian suicide bombing attack that killed 20 Israelis.
Sharon convened his senior ministers on Sunday to discuss options for an attack on the Palestinian Authority as U.S. Secretary of State Powell called on Israel not to retaliate. Israeli officials dismissed a pledge by PA Chairman Yasser Arafat to stop the violence and did not rule out an invasion on Monday. The officials said Arafat has already evacuated all installations, eliminating many targets for Israel.
---
---
On late Saturday, PA security chief Maj. Gen. Abdul Razik Majaydeh ordered all Palestinian security forces to enforce an immediate ceasefire. The order did not include such Islamic allies as Hamas and Islamic Jihad, Middle East Newsline reported.
Overnight Sunday, however, Palestinian gunners continued to fire on Israeli communities and military posts in the West Bank and Gaza Strip.
Sharon discussed the issue on late Saturday with U.S. Secretary of State Colin Powell. Both men cancelled foreign tours amid the escalating tension.
Arafat's Fatah movement met on late Saturday and called on Palestinians to prepare for an Israeli invasion of PA areas. PA radio urged Palestinians to shut off gas and electricity and store food for what officials termed an impending attack.
"The [proposed] operation is to ensure that there will not be terror," Israeli Deputy Prime Minister Silvan Shalom said minutes before the Cabinet meeting. "We are not looking for the collapse of the PA."
Israeli officials said the borders with Egypt and Jordan have been sealed and Palestinian workers have been expelled from Israel. For the first time, they said, Arafat will not be able to leave PA areas.
Israeli officials said Sharon is giving Arafat no more than several hours until Israel responds. They said Sharon expects Arafat to end all attacks and round up Islamic fugitives released from PA prisons.
*************************************************
After bomb, Israel tells Arafat:
we demand deeds, not words
Following a devastating suicide bombing in Tel Aviv, Israeli officials agreed to withhold a military response and give Palestinian Authority President Yasser Arafat a few days to live up to his vow to crack down on terrorists and rein in violence. But the officials are not optimistic.
**************************************************
15 Sivan 5761, Tuesday Jun. 5, 2001, (18:49)
Arafat cease-fire under US scrutiny
By Janine Zacharia and Gil Hoffman
The US is delaying the visit of CIA chief George Tenet to see if Palestinian Authority Chairman Yasser Arafat shows signs of cracking down on terror.

(16:50) Hamas tells JPost Radio: Arafat did not order cease-fire
By Blake Lambert
Palestinian Authority Chairman Yasser Arafat did not tell Fatah and Hamas to stop the violence at a meeting on Monday night, a senior Hamas spokesman told Jerusalem Post Radio this afternoon.

The years and years of teaching children that it makes Allah great when Jews are killed. The making of martyrs out of baby killers when those babies are Jewish. This is the man who glorifies those who make bombs out of rusty nails aimed at maiming and killing Jewish teenagers, and the suicide death of his own children. The teaching that the Holy Land is Palestinian (not God's), and the Jew must be driven out. It all is on the line now as Arafat tries to convince the world he is rescinding all the hate he has taught and practiced over all his years. Will the Palestinian people ever believe him when he says he is recanting? Will they stop? They have taken their hate to the limits where it was always known it would go. The world now watches as the fruit of that hate is having a reaction.
Arafat has brought the Palestinian people into the same condition as the future Babylon will find itself just before the return of Christ.
Rev 18:2
2 And he cried mightily with a strong voice, saying, Babylon the great is fallen, is fallen, and is become the habitation of devils, and the hold of every foul spirit, and a cage of every unclean and hateful bird.
KJV

Wednesday - June 6, 2001
Vatican Displays Body of John Paul XXIII on Way to Interment

The disinterred body of Pope John XXIII, the pontiff who initiated radical changes in the Roman Catholic Church in
the 1960s, was wheeled through St. Peter's Square in a crystal coffin Sunday before being laid in a new, prominent
position in St. Peter's Basilica. The Vatican estimated that 40,000 people gathered in St. Peter's Square, but the
piazza in front of the massive basilica was not full.

Many, especially those who grew up during John's papacy, were moved to tears when the embalmed body of the man born
Angelo Roncalli in northern Italy in 1881 passed by. News reports said his face was covered by a wax mask made after
the body was disinterred in January. John's body had been buried in the grotto, or lower level, of St. Peter's, along
with many other popes. He was beatified last Sept. 3, along with the widely criticized Pius IX, who was pope from 1846 to 1878.

During John's tenure, from 1958 to 1963, he opened the doors to decentralization, greater participation by lay
Catholics and ecumenism with the convocation of the historic Second Vatican Council. He did not live to see the
conclusion of the council, in 1965, which among others things approved the use of local languages instead of Latin.
He was beatified last Sept. 3, along with the widely criticized Pius IX. That means Catholics will soon be able to pray to these two Popes. They had to put a wax face on John Paul the XXIII because his real face has deteriorated. The faithful could shower his crystal coffin with tears, or his detractors could spit in his wax face. Angelo Roncalli was and is impotent. It was and is impossible for him to respond. He is dead! The faithful as well pray to a rock (as they often do to the sculptured replicas of their saints). There is only one who the Bible says is not dead, and can hear the prayers of the faithful. He is not a Pope of the Catholic Church, but a Jewish King in the line of David. This is why His Kingdom must come. Apostate Christianity has usurped the promises given Him at His second coming. God is preparing to set the record straight.
Matt 3:1-2
3:1 In those days came John the Baptist, preaching in the wilderness of Judaea,

2 And saying, Repent ye: for the kingdom of heaven is at hand.
KJV


John 1:19-28
19 And this is the record of John, when the Jews sent priests and Levites from Jerusalem to ask him, Who art thou?
20 And he confessed, and denied not; but confessed, I am not the Christ.
21 And they asked him, What then? Art thou Elias? And he saith, I am not. Art thou that prophet? And he answered, No.
22 Then said they unto him, Who art thou? that we may give an answer to them that sent us. What sayest thou of thyself?
23 He said, I am the voice of one crying in the wilderness, Make straight the way of the Lord, as said the prophet Esaias.
24 And they which were sent were of the Pharisees.
25 And they asked him, and said unto him, Why baptizest thou then, if thou be not that Christ, nor Elias, neither that prophet?
26 John answered them, saying, I baptize with water: but there standeth one among you, whom ye know not;
27 He it is, who coming after me is preferred before me, whose shoe's latchet I am not worthy to unloose.
28 These things were done in Bethabara beyond Jordan, where John was baptizing.
KJV



1 John 5:11-15
11 And this is the record, that God hath given to us eternal life, and this life is in his Son.

12 He that hath the Son hath life; and he that hath not the Son of God hath not life.

13 These things have I written unto you that believe on the name of the Son of God; that ye may know that ye have eternal life, and that ye may believe on the name of the Son of God.

14 And this is the confidence that we have in him, that, if we ask any thing according to his will, he heareth us:

15 And if we know that he hear us, whatsoever we ask, we know that we have the petitions that we desired of him.
KJV

****************************************************
Jerusalem, Israel:
On Sunday night, it was announced that Jan Bloom, 25, the security guard at
the club, died of injuries he sustained in the attack. Yael-Yulia Sklanik,
15, died early Sunday morning, and Roman Gurokhovsky, 20, a Ukrainian
tourist, died Saturday afternoon.

Those who died at the scene of the blast were:
Yelena Nelimov, 18
Yuli Nelimov, 16
Ilia Gutman, 19
Roman Dezanshvili, 21
Caterina Kastaniada, 15
Marina Zhirkovskaya, 17
Irena Usdachi, 18
Anya Kachkova, 16
Mariana Madbaneko, 16
Simona Rodin, 17
Ori Shahar, 32
Aleksei Lupalu, 16
Raisa Nomrovsky, 15
Maria Tagilchev, 14
Liana Skian, 16
Irena Nafmaniashtsy, 16
Diaz Normanov, 21
**************************************************
Hamas Will Continue Intefadeh
by MARK LAVIE
Associated Press Writer



JERUSALEM (AP) --
Despite international efforts to calm tempers, several Palestinians were injured Tuesday in clashes in Hebron and Ramallah in the West Bank, Palestinian witnesses said.

Also in the West Bank, Ashraf Mahmoud Bardawil, 27, a Fatah activist in the Tulkarem area, was critically injured in an explosion in his car, according to a local hospital director and Bardawil's family. The cause wasn't clear.

In the Gaza Strip, Yassin was among 2,000 Palestinians marking the 34th anniversary of the 1967 Mideast war with a march. Demonstrators chanted ''The intefadeh will continue until victory!'' and carried posters of Arafat and Yassin.

Jihad Nasar, a 23-year-old student in the Islamic University, said Palestinians will not stop the intefadeh, or uprising, but said continuing resistance does not contradict Arafat's decision Saturday to call a cease-fire. .....
*******************************************
North of Ramallah, Israeli soldiers opened fire Tuesday with rubber-coated steel bullets on Palestinians throwing stones after the army refused to let them by a checkpoint, Palestinian witnesses said. Ten Palestinians were injured. The army said it fired on 600 demonstrators to disperse them.

In Hebron, Palestinian doctors said at least 2 people among about 30 people throwing stones and Molotov cocktails were injured by rubber bullets. An Israeli army spokesman said only that a Palestinian in Hebron threw an iron bar at soldiers who responded with tear gas and rubber bullets. It wasn't clear if the incidents were the same.

********************************************
As alarming scenes from the bombing site were broadcast around the world, many expected swift Israeli reprisals. World leaders tried to avert a sharp escalation by strongly condemning the attack and demanding afresh that Arafat order a ceasefire. The Palestinian leadership, however, was caught off guard by the developing crisis, still in mourning in Ramallah following
the funeral earlier Friday for Faisal Husseini, the senior PLO figure in Jerusalem.

On news of the bombing, scores of Palestinians reportedly took to the streets of Ramallah in celebration. But by dawn, Palestinian streets were deserted and PA security offices abandoned, in fear of imminent air raids. Yet surprisingly, Israeli Prime Minister Ariel Sharon delayed any actions, deciding not to bomb "empty buildings."
**********************************************
PALESTINIAN AND ARAB REACTION

Upon hearing news of the bombing, Palestinians celebrated in the streets of Ramallah and parts of Gaza, dancing and firing guns in the air. Militant Islamic groups praised the use of suicide bombers and vowed to continue the armed struggle, despite Arafat's call for a ceasefire. Fatah leaders gave mixed reactions, some pledging to fight on in defiance of Arafat, but others reportedly agreed today to honor his orders.

The father of Said Hotary, the 22-year-old suicide bomber, told reporters Sunday that he was proud of his son's actions and hopes that more Palestinians will follow in his path. "I only wish I had 20 children who would follow in the footsteps of my son. This is the only way to deal with the Jews," Hassan Hotary said yesterday in Jordan, before kissing a photo of his son in front of television cameras. Hotary reportedly served in the Jordanian military before returning to the territories two years with Israeli permission.


Thursday - June 7, 2001
Infant gravely wounded in stoning
By Margot Dudkevitch

JERUSALEM (June 6) - A five-month-old Israeli baby boy was critically wounded in a stone-throwing attack on the family's vehicle last night as it travelled near Shiloh. The infant was rushed unconscious by a mobile intensive care unit to Hadassah-University Hospital at Ein Kerem, with severe head injuries.

"Doctors are now fighting for his life," a hospital statement said.

The baby boy was secured in the front passenger seat of the car when a large rock crashed through the window above him.

Violence continued elsewhere in the West Bank and Gaza Strip yesterday, as the IDF denied any role in a car explosion that seriously wounded a Fatah activist in Tulkarm.

Security forces arrested eight Palestinians suspected of involvement in terrorist activities, among them the district liaison officer in Nablus. The PA gave permission to Hamas and Fatah to hold demonstrations in the Gaza Strip and in Ramallah and Hebron in the West Bank to mark the 24th anniversary of the outbreak of the Six Day War - or the beginning of occupation.

Shiloh has a rich Biblical past. The phrase "until Shiloh come" is associated with the Second Coming of the Lord Jesus Christ. It reflects on His coming victorious reign as the lion of Judah and King of the Jews. Shiloh is also the city from which all Israel was given their inheritance in the Holy Land. It is noted as the first place where the Tabernacle and the Ark was set up and where God dwelt when Israel took possession of their inheritance (Read This Place). Later, Shiloh became the symbol of wicked disobedience because Israel tried to turn the Ark and the God of the Bible into some kind of mystical shrine rather then the Living God that He always had been.
It is sad that Shiloh should again be associated with pain as this little baby fights for life. Soon the scepter shall again appear, and all babies will find peace and safety under His reign.
Gen 49:9-10
9 Judah is a lion's whelp: from the prey, my son, thou art gone up: he stooped down, he couched as a lion, and as an old lion; who shall rouse him up?

10 The sceptre shall not depart from Judah, nor a lawgiver from between his feet, until Shiloh come; and unto him shall the gathering of the people be.
KJV



Josh 18:1
18:1 And the whole congregation of the children of Israel assembled together at Shiloh, and set up the tabernacle of the congregation there. And the land was subdued before them.
KJV

Josh 18:10
10 And Joshua cast lots for them in Shiloh before the LORD: and there Joshua divided the land unto the children of Israel according to their divisions.
KJV



1 Sam 4:12-18
12 And there ran a man of Benjamin out of the army, and came to Shiloh the same day with his clothes rent, and with earth upon his head.
13 And when he came, lo, Eli sat upon a seat by the wayside watching: for his heart trembled for the ark of God. And when the man came into the city, and told it, all the city cried out.
14 And when Eli heard the noise of the crying, he said, What meaneth the noise of this tumult? And the man came in hastily, and told Eli.
15 Now Eli was ninety and eight years old; and his eyes were dim, that he could not see.
16 And the man said unto Eli, I am he that came out of the army, and I fled to day out of the army. And he said, What is there done, my son?
17 And the messenger answered and said, Israel is fled before the Philistines, and there hath been also a great slaughter among the people, and thy two sons also, Hophni and Phinehas, are dead, and the ark of God is taken.
18 And it came to pass, when he made mention of the ark of God, that he fell from off the seat backward by the side of the gate, and his neck brake, and he died: for he was an old man, and heavy. And he had judged Israel forty years.
KJV



Jer 7:12-15
12 But go ye now unto my place which was in Shiloh, where I set my name at the first, and see what I did to it for the wickedness of my people Israel.

13 And now, because ye have done all these works, saith the LORD, and I spake unto you, rising up early and speaking, but ye heard not; and I called you, but ye answered not;

14 Therefore will I do unto this house, which is called by my name, wherein ye trust, and unto the place which I gave to you and to your fathers, as I have done to Shiloh.

15 And I will cast you out of my sight, as I have cast out all your brethren, even the whole seed of Ephraim.
KJV


Friday - June 8, 2001
CIA CHIEF HOPES TO SOLIDIFY CEASEFIRE

The US and other international players are desperately racing to forge the terms for a mutually agreed upon cease-fire out of the separate truces declared by Israel and the Palestinian Authority in recent days, but sharp disagreements, frayed tempers and continuing violence are standing in the way.

When Israel surprisingly exercised restraint after a Hamas suicide bomber killed 20 Israelis outside a Tel Aviv disco last Friday night, PLO chief Yasser Arafat was cornered by the international community into finally calling for a Palestinian cease-fire on Saturday to match Israel's 11-day-old unilateral truce pursuant to the Mitchell report.

Israelis are skeptical about the sincerity of Arafat's cease-fire, however, especially after shootings and bombings continued over recent days and militants in Hamas and Islamic Jihad vowed to ignore it.

US leaders also remain skeptical about the PA cease-fire, suspecting the move may be just an attempt to deflect international pressure and forestall harsh Israeli reprisals. But the Bush Administration feels that the PA has taken enough steps to reduce the violence, that CIA Director George Tenet is being dispatched to the region to try to firm up a mutual ceasefire that will more clearly define what is expected of each side.

"We believe enough progress has been made on the cease-fire that it is time to send George Tenet to the Middle East to start serious discussions at the security level about how to make sure the cease- fire continues," US President George W. Bush told reporters yesterday. .....................
Israeli officials said they had seen little evidence of attempts to end the violence or to stop anti-Israeli incitement in the Palestinian media. CNSNews.com reported the observation of Itamar Marcus, director of the Palestinian Media Watch watchdog group, that while the PA was not inciting the masses to take to the streets, it was still intent on de-legitimizing the Jewish State, creating fear and hatred for Israelis. In addition, songs praising martyrdom and violence against Israel continue to be heard; television captions quote the father of the Dolphinarium suicide murderer saying that he is proud of his son and wishes he had 20 more like him.
********************************************
Ben-Eliezer warns more terror attacks are imminent
By Gil Hoffman

TEL AVIV (June 8) - Hamas, Islamic Jihad, Tanzim, and Palestinian Authority Chairman Yasser Arafat's elite Force 17 security service are acting as if there is no cease-fire and have let loose a squad of suicide bombers who could strike any day, Defense Minister Binyamin Ben-Eliezer warned yesterday.

Palestinian terrorists have launched more than 60 attacks and fired 14 mortar shells and there have been 10 casualties since Arafat declared a cease-fire on Saturday, Ben-Eliezer told a meeting of the Labor Party bureau in the party's headquarters in Tel Aviv's Hatikva Quarter.

"The truth on the ground is that there is no cease-fire," Ben-Eliezer said. "A cease-fire has no meaning unless it is implemented on a measurable scale. Instead, Arafat has done the absolute minimum to obtain the necessary public relations to score a diplomatic victory."


The real issue is the heart. What is in the heart is the basis on which God makes His judgments. The heart must be changed, converted, submitted to God. All men are subject to God. They must submit or be judged rebellious. The Bible is the only place where the truth of God is revealed. God is not found in the confusion of world religions, or the philosophies of man. The Bible predicts religion will become the Great Whore riding on the back of the beast (the Anti-Christ) just before Christ comes the second time. I watch in anticipation the events taking place in Israel. The Bible says Christ will establish His Coming Kingdom at Jerusalem! It is all part of God's eternal Biblical plan. All men will either submit or rebel to His rule. God is the judge of the heart. He will arbitrarily make the eternal decision of where every man will spend eternity. The real issue is will you let your heart be changed by God. Will you (Christian, Jew, Moslem, Religionist) come to the savior?
Ps 5:7-8
7 But as for me, I will come into thy house in the multitude of thy mercy: and in thy fear will I worship toward thy holy temple.

8 Lead me, O LORD, in thy righteousness because of mine enemies; make thy way straight before my face.
KJV



Ps 34:11
11 Come, ye children, hearken unto me: I will teach you the fear of the LORD.
KJV



Matt 11:27-30
27 All things are delivered unto me of my Father: and no man knoweth the Son, but the Father; neither knoweth any man the Father, save the Son, and he to whomsoever the Son will reveal him.

28 Come unto me, all ye that labour and are heavy laden, and I will give you rest.

29 Take my yoke upon you, and learn of me; for I am meek and lowly in heart: and ye shall find rest unto your souls.

30 For my yoke is easy, and my burden is light.
KJV



John 7:28-32
28 Then cried Jesus in the temple as he taught, saying, Ye both know me, and ye know whence I am: and I am not come of myself, but he that sent me is true, whom ye know not.

29 But I know him: for I am from him, and he hath sent me.

30 Then they sought to take him: but no man laid hands on him, because his hour was not yet come.

31 And many of the people believed on him, and said, When Christ cometh, will he do more miracles than these which this man hath done?

32 The Pharisees heard that the people murmured such things concerning him; and the Pharisees and the chief priests sent officers to take him.
KJV

Saturday - June 9, 2001
Military Missiles Prepared for War
Pechora-2 development complete, upgrade showcased in Moscow. The mobile Pechora-2, a modernised version of the S-125M Neva-M (SA-3A goa) surface-to-air missile system developed for Egypt, has recently been presented to Moscow to the military attaches of a number of countries that currently operate Pechora systems.

Sub-launched missiles complete Israeli ?triad? The Israeli Defence Force has unofficially confirmed to JDU that the Israeli Navy has equipped its three German-built Type 800 Dolphin class submarines with surface-to-surface missiles. No details have been released, beyond an assertion that Israel has now mastered cruise-missile technology.
Sharon's plan
What Israel's prime minister intends to do next As FOREIGN REPORT went to press, there was a temporary lull in the
Israeli-Palestinian conflict. This was due in part to fears of Israeli reprisals for recent bomb explosions carried out by Islamist extremists. The president of the Palestinian Authority, Yasser Arafat, was trying to reduce the level of violence, if not to end it. His fears were justified; a well-placed Israeli source told FOREIGN REPORT that a reprisal could come "in three hours or three weeks". We have learnt what is envisaged.
******************************************************
Future of the Failure
Meanwhile, debate continues as to the proper response to the expected failure of Arafat's cease-fire. Government sources report that the cabinet has already approved a series of IDF countermeasures that could be carried out immediately. In addition, the defense establishment presented a separation plan to Prime Minister Ariel Sharon Thursday that calls for a
buffer zone to be carved out on the eastern side of the 1967 border in Samaria, and the establishment of a special military body to patrol it.

The idea of unilateral separation is gaining support among a growing number of Israelis, after the vulnerable central coast region suffered a rash of suicide and car bombings by Palestinians who infiltrated the porous Samarian border in recent months.
*********************************************************
TENS OF THOUSANDS URGE SHARON TO "FIGHT ARAFAT"

Exhausted by an eight-month long wave of terrorism, tens of thousands of Israelis crowded Jerusalem's Zion Square Wednesday evening to protest under the slogan, "Arafat must be defeated." Four months to the day that Prime Minister Ariel Sharon was elected in a landslide victory, Israelis waving placards reading: "Stop terror by all means," and "Cease-fire? We cease, Arafat fires," urged him to end his current policy of restraint and declare the Palestinian leader a terrorist.
**********************************************************
AN ADDED TWIST TO TERROR BOMBING

The Arab suicide bombers who carried out recent attacks in Tel Aviv and Netanya were both infected with Hepatitis B, according to forensic testing of the bombers' remains. Several people wounded in the Netanya attack are now being treated for hepatitis because they came in contact with fragments of the bomber's body.
The arrogance has disappeared with the backlash from the teen bombing. The bombers themselves are revealed as filthy perverts filled with sex diseases. The Palestinians are grasping for straw now that they left the banquet table offered by the peaceniks. Arafat looks more the fool with each passing day. A separated community under heavy supervision looks like all the Palestinian Authority will have at the end of the day. In the mean time, the missiles of war and mass destruction are prepared to do their worst. The hate has not abated as Israel and Islam face each other in the bigger picture. I expect a last Jihad will settle the face off causing God to act on behalf of Israel. The missiles may blow up in their launchers? The invasion of Israel seems to be unopposed in Ezekiel 38 & 39. It is only when the invaders reach the mountains of Israel that they are devastated by God. The Temple can then be built ushering in the coming Kingdom of Heaven.
Isa 56:10-12
10 His watchmen are blind: they are all ignorant, they are all dumb dogs, they cannot bark; sleeping, lying down, loving to slumber.

11 Yea, they are greedy dogs which can never have enough, and they are shepherds that cannot understand: they all look to their own way, every one for his gain, from his quarter.
KJV


Matt 8:11
11 And I say unto you, That many shall come from the east and west, and shall sit down with Abraham, and Isaac, and Jacob, in the kingdom of heaven.
KJV



Matt 13:11-13
11 He answered and said unto them, Because it is given unto you to know the mysteries of the kingdom of heaven, but to them it is not given.

12 For whosoever hath, to him shall be given, and he shall have more abundance: but whosoever hath not, from him shall be taken away even that he hath.

13 Therefore speak I to them in parables: because they seeing see not; and hearing they hear not, neither do they understand.
KJV

Sunday - June 10, 2001
EIGHTY-SEVEN PERCENT OF SOUTHERN BAPTIST MEMBERS ARE NOT FAITHFUL
The Southern Baptist Convention is the largest non-Catholic denomination in America, claiming roughly 16 million members.
This statistic is almost meaningless, though. In an article published in 1999 by Jim Elliff, resident consultant for the Midwestern Center for Biblical Revival at Midwestern Baptist Theological Seminary, we learn the following sad facts: "Out of Southern Baptists' nearly 15.9 million members, only 5.2 million, or 32.8%, even bother to show up on a given Sunday morning, according to the Strategic Information and Planning department of the Sunday School Board (1997). In the average church, one can cut that 32.8% by about two-thirds to find those interested in any additional aspect of church life, such as a Sunday evening service. In other words, only about a third of the 32.8% or slightly more than a tenth of the whole (12.3% in churches with evening services in 1996, the last year for which statistics are available) show more interest in the things of God than Sunday morning attenders in the liberal church down the street where the gospel is not even preached. These figures suggest that nearly 90% of Southern Baptist church members appear to be little different from the 'cultural Christians' who populate mainline denominations" (Founder's Journal, Feb. 7, 1999).
Ps 12:3
3 The LORD shall cut off all flattering lips, and the tongue that speaketh proud things
KJV
*******************************************************
NINETY PERCENT OF SOUTHERN BAPTIST STUDENTS BEING TRAINED BY MODERNISTS.

Though the national seminaries in the Southern Baptist Convention have been turned back somewhat from theological
modernism, nothing has changed at the state and local level. There are six national seminaries with a total enrollment of roughly 12,700. These have been turned in a more conservative direction during the last 15 years. On the other hand, there are 54 Southern Baptist colleges and universities that are openly and unquestioningly modernistic, with a total enrollment of roughly 113,500 students (R.L. Hymers, Jr., Battle for the Bible in the 21st Century, pp. vii-ix, citing Bill Sumners, Director and Archivist, Southern Baptist Historical Library and Archives, Thus, even today, after 30 years of conservative leadership at the national level, 90% of the students in Southern Baptist-supported institutions are being trained by modernists.
**********************************************************
SOUTHERN BAPTIST SEMINARY SUPPORTS GRAHAM ECUMENISM. Friday Church News
Conservatives within the Southern Baptist Convention claim that the national seminaries have been saved from liberalism, but what they fail to acknowledge is that the same seminaries are solidly New Evangelical in philosophy. The Southern Baptist Convention associates in many different ecumenical ventures, including its affiliation with the Baptist World Alliance, Campus Crusade for Christ, the American Bible Society, the China Christian Council, Promise Keepers, and Mission 2000, to name a few. The Southern Baptist Convention also uncritically supports the ecumenical evangelistic crusades sponsored by Billy Graham, Luis Palau, and others. Southern Baptist Theological Seminary has a course entitled "Christian Life and Witness,: which trains students in crusade counseling techniques. On May 3, 2001, the Baptist Press ran an article entitled "Hundreds of
Southern Students Prepare for Graham Crusade." The SBC seminaries do absolutely nothing to warn their students about the great dangers of ecumenical evangelism. They do not explain that Graham has turned thousands of converts over to Roman Catholic and modernistic churches. They do not carry books in their bookstores that warn about ecumenical ventures such as this and that document Graham's compromise.
Israel had a problem with phony religion. They brought the idols and false rituals of the pagans into the Temple. A seeker of truth would have great difficulty trying to determine what was Biblical (of God), and what was man-made religion. The confusion was so great that God had to finally leave the Temple, and abandon Israel to the pagans until repentance. The practice of the SBC is another reason why the Kingdom of Heaven must come soon. God must set the record straight, and remove the phony religion of Christianity as He removed the phony religion of Judaism in Ezekiel's day (First Temple era). A trade of New-Evangelicalism for Liberalism gives only the gullible in the SBC reason to rejoice. The way it happened (a power struggle for control of the SBC) most certainly does not fall into the category of repentance.

Ezek 8:8-13
8 Then said he unto me, Son of man, dig now in the wall: and when I had digged in the wall, behold a door.
9 And he said unto me, Go in, and behold the wicked abominations that they do here.
10 So I went in and saw; and behold every form of creeping things, and abominable beasts, and all the idols of the house of Israel, pourtrayed upon the wall round about.
11 And there stood before them seventy men of the ancients of the house of Israel, and in the midst of them stood Jaazaniah the son of Shaphan, with every man his censer in his hand; and a thick cloud of incense went up.
12 Then said he unto me, Son of man, hast thou seen what the ancients of the house of Israel do in the dark, every man in the chambers of his imagery? for they say, The LORD seeth us not; the LORD hath forsaken the earth.
13 He said also unto me, Turn thee yet again, and thou shalt see greater abominations that they do.
KJV



Ezek 10:1-5
10:1 Then I looked, and, behold, in the firmament that was above the head of the cherubims there appeared over them as it were a sapphire stone, as the appearance of the likeness of a throne.

2 And he spake unto the man clothed with linen, and said, Go in between the wheels, even under the cherub, and fill thine hand with coals of fire from between the cherubims, and scatter them over the city. And he went in in my sight.

3 Now the cherubims stood on the right side of the house, when the man went in; and the cloud filled the inner court.

4 Then the glory of the LORD went up from the cherub, and stood over the threshold of the house; and the house was filled with the cloud, and the court was full of the brightness of the LORD's glory.

5 And the sound of the cherubims' wings was heard even to the outer court, as the voice of the Almighty God when he speaketh.
KJV



Ezek 10:18-19
18 Then the glory of the LORD departed from off the threshold of the house, and stood over the cherubims.

19 And the cherubims lifted up their wings, and mounted up from the earth in my sight: when they went out, the wheels also were beside them, and every one stood at the door of the east gate of the LORD's house; and the glory of the God of Israel was over them above.
KJV

Ezek 11:22-23
22 Then did the cherubims lift up their wings, and the wheels beside them; and the glory of the God of Israel was over them above.

23 And the glory of the LORD went up from the midst of the city, and stood upon the mountain which is on the east side of the city.
KJV

Acts 1:9-12
9 And when he had spoken these things, while they beheld, he was taken up; and a cloud received him out of their sight.

10 And while they looked stedfastly toward heaven as he went up, behold, two men stood by them in white apparel;

11 Which also said, Ye men of Galilee, why stand ye gazing up into heaven? this same Jesus, which is taken up from you into heaven, shall so come in like manner as ye have seen him go into heaven.

12 Then returned they unto Jerusalem from the mount called Olivet, which is from Jerusalem a sabbath day's journey.
KJV
The mount called Olivet is the only mount on the East side of Jerusalem. It was from this mount that Ezekiel saw the Glory of God leave the earth from the First Temple, and go up to heaven. This is the very same mount on which the disciples of Christ later stood before the Second Temple at the end of His First Coming to earth, and watched His Glory go up to heaven.
Read This Place for a Biblical account of the departures of God's glory from earth.

Monday - June 11, 2001
Saudi Crown Prince warns of Middle East war

Saudi Crown Prince Abdullah has warned of the prospect of a Middle East war, accusing Israel of raising Middle East bloodshed to "unacceptable" levels.
Abdullah told German magazine Der Spiegel that the region is "sitting on a powder keg" that could "explode at any time".
He added that such a war "would not only affect Israelis and Arabs but many parts of the world" but did not elaborate any further.
Abdullah, who ended a three-day official visit to Germany on Friday, blamed Israeli Prime Minister Ariel Sharon for eight months of violence that has left 484 Palestinians and 108 Israelis dead.
He told the magazine: "The bloodshed is reaching levels we can no longer accept. The Israeli war machine takes aim daily at unarmed people who are at the most throwing stones."
Abdullah said Palestinian attacks against Israelis were "a sign of desperation and frustration", and that Palestinian leader Yasser Arafat could only stop his people's revolt if Israel ends the "cancerous growth of settlements in Palestinian areas".
Abdullah, who met Chancellor Gerhard Schroeder during his stay in Berlin, encouraged the European Union to mediate in the Middle East and said Germany should not be restrained by historic traumas.
"The crimes of the Nazis against the Jews must not serve as an excuse for accepting crimes against the Palestinians," he told the magazine.
Abdullah seems to have forgotten what happened to the Nazis as a result of their hate for the Jew. It is no excuse for Germany when the lesson has been learned. The Nazis were going to rule the world for 1000 years. The final solution of world domination was put into action with the holocaust. The Nazi boast has followed them into the grave in less then one generation. Islam has now taken up the boast of a final solution for the Jew. The greatness of Allah is at stake because the propaganda of the Islamic clerics has made it so. The war of which Abdullah speaks is now a religious war between Allah of the Koran, and the God of the Jews found in the Bible. Islam teaches that the greatness of Allah is directly connected to the death of Jews, and the extermination of Israel. Abdullah had not learned the lesson of the Nazis who also taught the same hate message, and final solution to all their perceived problems. The God of the Bible says the Jew is special among all the peoples of earth.
Ex 33:12-17
12 And Moses said unto the LORD, See, thou sayest unto me, Bring up this people: and thou hast not let me know whom thou wilt send with me. Yet thou hast said, I know thee by name, and thou hast also found grace in my sight.

13 Now therefore, I pray thee, if I have found grace in thy sight, shew me now thy way, that I may know thee, that I may find grace in thy sight: and consider that this nation is thy people.

14 And he said, My presence shall go with thee, and I will give thee rest.

15 And he said unto him, If thy presence go not with me, carry us not up hence.

16 For wherein shall it be known here that I and thy people have found grace in thy sight? is it not in that thou goest with us? so shall we be separated, I and thy people, from all the people that are upon the face of the earth.

17 And the LORD said unto Moses, I will do this thing also that thou hast spoken: for thou hast found grace in my sight, and I know thee by name.
KJV
******************************************************
McVeigh to Die! - Is Dead! - Depending on the time you read this!
Defiant and unrepentant to the last, McVeigh continues to insist he has no fear of his execution.
An agnostic, he said he will "improvise, adapt and overcome" if it turns out that there is an afterlife, and he winds up in heaven or hell.
"If I am going to hell," he said, "I'm gonna have a lot of company."
Yes, this unrepentant, defiant agnostic closes his eyes in this world only to open them in the next in torment. God has created all men with an eternal soul that never dies. Death brings the final judgment by the eternal Judge. McVeigh may think a lot of company will make the torments of hell easy to adapt and overcome, but the Bible says the numbers will be no comfort to those who find hell as their eternal abode. How sad that salvation in Christ was available up to his last breath. Like the many unrepentant, defiants, who went before him, the value of their eternal souls has a new meaning in the afterlife.
Luke 16:23-31
23 And in hell he lift up his eyes, being in torments, and seeth Abraham afar off, and Lazarus in his bosom.

24 And he cried and said, Father Abraham, have mercy on me, and send Lazarus, that he may dip the tip of his finger in water, and cool my tongue; for I am tormented in this flame.

25 But Abraham said, Son, remember that thou in thy lifetime receivedst thy good things, and likewise Lazarus evil things: but now he is comforted, and thou art tormented.

26 And beside all this, between us and you there is a great gulf fixed: so that they which would pass from hence to you cannot; neither can they pass to us, that would come from thence.

27 Then he said, I pray thee therefore, father, that thou wouldest send him to my father's house:

28 For I have five brethren; that he may testify unto them, lest they also come into this place of torment.

29 Abraham saith unto him, They have Moses and the prophets; let them hear them.

30 And he said, Nay, father Abraham: but if one went unto them from the dead, they will repent.

31 And he said unto him, If they hear not Moses and the prophets, neither will they be persuaded, though one rose from the dead.
KJV
The Bible says Christ was resurrected from the dead, but McViegh like most remains too defiant (even at the end) to turn to Him for salvation. Moses, the prophets, the whole Bible is the story of God's love and grace offered freely to those who will repent, and come to the the only perfect sacrifice for sin that is acceptable to the God of the Bible. Soon, His Kingdom will be established in Jerusalem to set the record straight that it is the humble who will inherit this coming Kingdom.


Tuesday - June 12, 2001
Bush Expands Global Warming Research By Scott Lindlaw
Associated Press Writer
Monday, June 11, 2001; 1:50 a.m. EDT WASHINGTON –– President Bush is calling for expanded research into global warming along with a fresh proposal to seek technologies that can curb greenhouse gases.
Before starting a six-day, five-nation trip to Europe, where his environmental policies have come under attack, Bush was announcing new initiatives Monday to study the rise in the Earth's temperature.
Scientists attribute the phenomenon to heat-trapping gases in the atmosphere. The gases result in part from human activities, such as burning fossil fuels.
The president was proposing an effort to study global warming and bolster coordination among research institutions throughout the world, aides said. He also was calling for a separate initiative that would fund research for the development of new technologies to cut greenhouse gases.
Bush hopes to ease tension with U.S. allies by agreeing that there is a problem – even if his solution lacks the regulatory teeth of the international pact negotiated in 1997 in Kyoto, Japan, requiring industrialized nations to reduce greenhouse gases by specified amounts.
Even before Bush unveiled his initiatives, there was new criticism of his approach toward the global warming.
Global warming is a political scare tactic gaining credence in a world that increasingly looks to man as the master of his own fate and soul. This world increasingly rejects an omniscient God who knew the pollution man would cause both locally and globally before He created all the complex balances involved in the environmental controls of planet earth. They fear man the evolutionary master will destroy rather then take possession of God's provision. Without a God in control, their fear is ripe to exploit. Kyoto exemplifies the exploitation of man the master.
I lived in the foot hills of Glacier Park in Montana. I spent many summers working in the fish canneries of Alaska. The locals all know the factual reality of glacier recession. They know this is not a new phenomenon resulting from the newly proposed theory of global warming, but rather a fact of the historical record going as far back as a record can be verified. Is it global warming, or glacial melting? Ice caves are not regenerating, but slowly disappearing. Should the world have gone into a panic 200 years ago because of these facts? Only if someone could have exploited a gullible public would the facts have been useful.
The environmental whacko's have exploited public fear of man the master into the past administration's policies concerning the environment. Maybe, just maybe some common sense will come from the new administration?
Read my commentary on Dixie Lee Ray's book Environmental Overkill.
Gen 1:1
1:1 In the beginning God created the heaven and the earth.
KJV

Ex 20:11
11 For in six days the LORD made heaven and earth, the sea, and all that in them is, and rested the seventh day: wherefore the LORD blessed the sabbath day, and hallowed it.
KJV

1 Sam 2:8-9
8 He raiseth up the poor out of the dust, and lifteth up the beggar from the dunghill, to set them among princes, and to make them inherit the throne of glory: for the pillars of the earth are the LORD's, and he hath set the world upon them.

9 He will keep the feet of his saints, and the wicked shall be silent in darkness; for by strength shall no man prevail.
KJV

Ps 8:3-9
3 When I consider thy heavens, the work of thy fingers, the moon and the stars, which thou hast ordained;

4 What is man, that thou art mindful of him? and the son of man, that thou visitest him?

5 For thou hast made him a little lower than the angels, and hast crowned him with glory and honour.

6 Thou madest him to have dominion over the works of thy hands; thou hast put all things under his feet:

7 All sheep and oxen, yea, and the beasts of the field;

8 The fowl of the air, and the fish of the sea, and whatsoever passeth through the paths of the seas.

9 O LORD our Lord, how excellent is thy name in all the earth!
KJV

Wednesday - June 13, 2001
MCVEIGH TRIED TO SAVE SOUL
By JEANE MACINTOSH, KENNETH LOVETT, JESSIE GRAHAM, MARILYN RAUBER and TRACY CONNOR
June 12, 2001 -- Timothy McVeigh got religion in his final moments - requesting last rites after he was strapped onto a gurney to be executed for the Oklahoma City bombing.
"He asked for it when he was on the table," said Bureau of Prisons spokesman Jeff Grondolsky.
John Wayne was my boyhood secular hero. A chug of whiskey was his movie way of dealing with impending death. What a disappointment when on his real deathbed he cried out for the last rites of a Roman Catholic Priest, and he was never even a Catholic? Death sure has a way of taking the macho out of the most hardened. It is also true that a false promise brings back the macho hardness all the worst! Death like sickness is a time of desperation and helplessness. The blood suckers using the name of Christ gather around the desperate and helpless to take advantage. They are ready to offer false assurances, and claim false acclaimers for having saved a soul through their false mystical powers. They gave McVeigh the false feeling that he was still the master of his fate, and captain of his soul in those last moments. He could defiantly look into the faces of his victims thinking he beat them all with the last rites! The last rites are not Biblical! It is something added by man to make a false religion that can by-pass repentance and turning to Christ alone. McVeigh joins all the Mafia type hoods and all others who depended on the magic of the last rites to right the record of their anti-God, Christ rejecting lives. The justice found in the God of the Bible is not attached to magic or religion. The eternal hell God created for all the rebels can't be by-passed by some mystical ritual. The power of the Catholic Church becomes meaningless when the power of the God of the Bible is examined. There is only one Savior, the Biblical Christ, not a Roman Catholic Priest with his false mystical powers.
Rev 20:11-15
11 And I saw a great white throne, and him that sat on it, from whose face the earth and the heaven fled away; and there was found no place for them.

12 And I saw the dead, small and great, stand before God; and the books were opened: and another book was opened, which is the book of life: and the dead were judged out of those things which were written in the books, according to their works.

13 And the sea gave up the dead which were in it; and death and hell delivered up the dead which were in them: and they were judged every man according to their works.

14 And death and hell were cast into the lake of fire. This is the second death.

15 And whosoever was not found written in the book of life was cast into the lake of fire.
KJV
There is only one way to have your name written in the book of life, and that is to repent and ask Jesus to be your Savior. To become "born again" the Biblical way! Beware of the false prophets usurping "born again" Christianity for their own gain, and taking advantage of the desperate and helpless. They too will find the justice of the God of the Bible at the end terrifying!
Matt 7:22-23
22 Many will say to me in that day, Lord, Lord, have we not prophesied in thy name? and in thy name have cast out devils? and in thy name done many wonderful works?

23 And then will I profess unto them, I never knew you: depart from me, ye that work iniquity.
KJV


Thursday - June 14, 2001
Greek monk killed as Arafat meets Tenet

By Amos Harel, Daniel Sobelman, Ora Coren and Amnon Barzilai
Ha'aretz Correspondent and Agencies

A Greek priest, 40, was shot to death around 10:30 last night while driving on the road linking Jerusalem's French Hill neighborhood and Ma'aleh Adumim. The incident occured as Palestinian Authority Chairman Yasser Arafat was meeting CIA chief George Tenet in Ramallah. Arafat was expected to tell Tenet that the Palestinians agree in principle to the American sponsored plan for a cease-fire and resumption of peace talks, according to Palestinian sources. Prior to his meeting with Tenet, Arafat called in senior PA officials to discuss how to respond to the U.S. initiative after Israel signed on to the program earlier in the day.

The shooting of the Greek Orthodox monk took place near the army roadblock dividing Jerusalem from the West Bank. It was the first shooting incident on this stretch of the well-traveled road that continues past Ma'aleh Adumim to Jericho and the Dead Sea. The monk was on his way to a monastery in Wadi Kelt near Jericho.

The meeting between Tenet and Arafat, which was still going on at midnight, took on added poignancy as the latest shooting incident was reported. A group of about 1,000 Palestinians gathered outside Arafat's Ramallah bureau to protest against the Tenet plan. Still, "it is expected that Arafat will inform Tenet of the Palestinians' approval in principle of the American document and will demand U.S. guarantees for implementation of the security agreement," a senior Palestinian official told Reuters last night.
******************************************
DESPITE TRUCE EFFORTS, STILL NO STOP IN THE VIOLENCE

Despite CIA chief George Tenet's efforts over the last few days to push through his plan for a "lasting" truce between Israel and the Palestinians, Israeli officials remain unimpressed with Arafat's feeble attempts at a cease-fire.

"We face a reality today in which we do not see a real intention on the part of the Palestinian Authority to stop the terrorism. We do not see any real attempts to prevent [attacks] and no results, since the firing is continuing," IDF Chief of General Staff Lt.-Gen. Shaul Mofaz said Sunday.
********************************************
ISRAEL, PA TO SIGN CEASEFIRE, BUT SKEPTICISM REMAINS

By Julie Stahl, CNSNews.com Jerusalem Bureau Chief - Israeli and Palestinian Authority officials are meeting with CIA chief George Tenet Wednesday to finalize the details of a ceasefire agreement, after the PA accepted the main points of the deal overnight.

The diplomatic efforts are intended to end nearly nine months of bloodshed, which has claimed some 500 lives. Meanwhile, the violence continues. A 17-year-old Israeli was wounded Wednesday in a shooting attack as she waited at a bus stop near a Jewish settlement in the West Bank.

Security sources said shots had been fired at the girl from a home in a nearby Palestinian village. As she tried to flee, she was shot in the neck.

This ceasefire is a far cry from peace. A lull in the midst of storm is more likely the reality. Whatever, it is welcome to everyone. The Bible reveals a soon coming day when Israel will be a peaceful place for children. Young girls need never fear again. A new era is promised when Jesus Christ will establish His Kingdom. This Kingdom is about to come. His will is about to be done.
Isa 11:6-12
6 The wolf also shall dwell with the lamb, and the leopard shall lie down with the kid; and the calf and the young lion and the fatling together; and a little child shall lead them.
7 And the cow and the bear shall feed; their young ones shall lie down together: and the lion shall eat straw like the ox.
8 And the sucking child shall play on the hole of the asp, and the weaned child shall put his hand on the cockatrice' den.
9 They shall not hurt nor destroy in all my holy mountain: for the earth shall be full of the knowledge of the LORD, as the waters cover the sea.
10 And in that day there shall be a root of Jesse, which shall stand for an ensign of the people; to it shall the Gentiles seek: and his rest shall be glorious.
11 And it shall come to pass in that day, that the Lord shall set his hand again the second time to recover the remnant of his people, which shall be left, from Assyria, and from Egypt, and from Pathros, and from Cush, and from Elam, and from Shinar, and from Hamath, and from the islands of the sea.
12 And he shall set up an ensign for the nations, and shall assemble the outcasts of Israel, and gather together the dispersed of Judah from the four corners of the earth.
KJV



Isa 65:20-25
20 There shall be no more thence an infant of days, nor an old man that hath not filled his days: for the child shall die an hundred years old; but the sinner being an hundred years old shall be accursed.

21 And they shall build houses, and inhabit them; and they shall plant vineyards, and eat the fruit of them.

22 They shall not build, and another inhabit; they shall not plant, and another eat: for as the days of a tree are the days of my people, and mine elect shall long enjoy the work of their hands.

23 They shall not labour in vain, nor bring forth for trouble; for they are the seed of the blessed of the LORD, and their offspring with them.

24 And it shall come to pass, that before they call, I will answer; and while they are yet speaking, I will hear.

25 The wolf and the lamb shall feed together, and the lion shall eat straw like the bullock: and dust shall be the serpent's meat. They shall not hurt nor destroy in all my holy mountain, saith the LORD.
KJV

Friday - June 15. 2001
06/14/2001 - Updated 06:29 AM ET
Cease-fire does little to ease tensions
By Jack Kelley, USA TODAY
JERUSALEM — News of a U.S.-brokered cease-fire agreement should have brought hope to Israel Wednesday. Instead, it spread more fear to an area racked by violence since last September, when Palestinians began a new uprising. Hours after news of the agreement, violence continued in the form of a drive-by shooting on Wednesday night and a Palestinian attack on an Israeli car along a major West Bank thoroughfare on Thursday. Two Palestinians and one Israeli died in the two attacks.
This is nothing but diplomatic acrobatics," said Jerusalem resident Lev Keinon, 43, who was wearing a bulletproof vest as he shopped at an outdoor market on the city's Jaffa Street. "It's going to fail like the seven other agreements since September. We know what's coming. We've been here before."
An overwhelming sense of fear and anger has gripped many Israelis and Palestinians as a result of the eight-month conflict, which crested two weeks ago when a Palestinian suicide bomber killed 20 young people outside a disco in Tel Aviv.
The bombing, the worst inside Israel in at least four years, shattered what vestiges of hope remained for peace. Instead, there are calls for vengeance, military strikes and more suicide bombings.
*********************************************
The 'Tunnel Road' south of Jerusalem where Palestinian gunmen shot and killed an Israeli
Thursday June 14 10:02 AM ET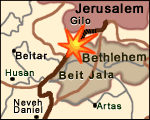 New Shooting Tests Mideast Cease-Fire
By MARK LAVIE, Associated Press Writer
JERUSALEM (AP) - A Palestinian fired from close range at an Israeli van Thursday in the West Bank, killing an Israeli security official with whom he was reportedly meeting and jeopardizing a new, U.S.-mediated cease-fire agreement.
The shooting, along a major thoroughfare, took place during a scheduled meeting between the Palestinian and the Israeli officer, a Palestinian security official in the Gaza Strip said on condition of anonymity. Palestinian radio also reported the Israeli officer had come to meet the attacker.
The official's bodyguard, who was wounded in the attack on the van, then killed the gunman, Israeli security sources said on condition of anonymity.
Expectations for a real peace are low. The cycle of death has worn down the peaceniks in Israel. A heavy handed military control of the Palestinians seems the only solution. It is a hard solution, but the best that is practical when hate is as extreme as it is among the Palestinians. The religious hate is certainly the worst. A God other then Allah is proving to be the greatest right in their midst. The Bible is surpassing the Koran as the book that is right in predicting the future. The Jewish Kingdom is becoming the reality, and a paradise of selfish greed is becoming the myth. The God of the Bible is pressing the Palestinians. Soon He will be pressing all of Islam. It will not be long before the God of the Bible will press the whole world. He will press them to submit to His will, to His religion, to His righteousness, to His Savior! The hate of the rebel will reach new heights as God presses His will upon mankind. Mercy will someday end for the Christ rejecters. The Bible says Christ is coming again as the King of the Jews. He will establish His Kingdom in Jerusalem. Woe to all who would oppose Him on that day!
Matt 6:33
33 But seek ye first the kingdom of God, and his righteousness; and all these things shall be added unto you.
KJV



Matt 12:25
25 And Jesus knew their thoughts, and said unto them, Every kingdom divided against itself is brought to desolation; and every city or house divided against itself shall not stand:
KJV



Matt 12:30
30 He that is not with me is against me; and he that gathereth not with me scattereth abroad.
KJV



Matt 13:41-43
41 The Son of man shall send forth his angels, and they shall gather out of his kingdom all things that offend, and them which do iniquity;

42 And shall cast them into a furnace of fire: there shall be wailing and gnashing of teeth.

43 Then shall the righteous shine forth as the sun in the kingdom of their Father. Who hath ears to hear, let him hear.
KJV

Saturday - June 16, 2001
Middle East peace?
The announcement this week that Palestinian leader Yasser Arafat has agreed to a US proposal which aims to establish a ceasefire in the eight-month conflict with Israel has been received with understandable caution. As Jane's Intelligence Digest has warned for months, Arafat will not be able to deliver because he does not control the situation on the ground.
*********************************************
OFFICIAL PA TV CALLS FOR DESTRUCTION OF ISRAEL, US, UK

By Julie Stahl, CNSNews.com Jerusalem Bureau Chief - A week after a Palestinian suicide bomber killed himself and 20 Israelis at a Tel Aviv disco and days after Palestinian Authority Chairman Yasser Arafat called for a ceasefire, the official PA television broadcast a sermon calling for suicide bombings and the destruction of Israel, the United States, and Britain. .....
'Army of Allah'

Sheik Ibrahim Madhi's sermon was carried live from the Sheik Ijlin Mosque in Gaza last Friday. A translation was made available this week by the Middle East Media Research Institute, an independent media analysis organization.

Madhi told Palestinians Allah could have delivered them instantaneously but was testing them through the things they were suffering. In the meantime, they needed to make preparations for the destruction of Israel, the U.S. and Great Britain.

"We must prepare the ground for the army of Allah that is coming according to the [divine] predetermination. We must prepare a foothold for them," Madhi said.

"Allah willing, this unjust state ... Israel, will be erased; this unjust state the United States will be erased; this unjust state Britain will be erased - they who caused this people's nakba," he said.

The nakba ("catastrophe") to which Madhi referred was what the Palestinians call the 1948 creation of the State of Israel. One viewpoint held in the region is that the West - particularly the U.S. and Britain - planted a Jewish "colony" in the midst of the Arab Middle East with the aim to conquer it.
We are witnessing where the truth really lies. Is it Allah and the Koran, or the God of Israel and the Bible? The Islamic clerics have no trouble boasting their Allah and his Koran will erase Israel first, then the rest of the Western free world. The God of the Bible says He will establish a Jewish Kingdom in the Holy Land for a soon coming Jewish King. Only one will rule the Holy Land, and eventually the world. There will be no fence sitting within either force. It will be submit to Allah, or submit to the God of Israel and His righteousness. Those who love unrighteousness see this as no choice at all. They are right! The soon coming Biblical Kingdom of God will be ruled in righteousness. Biblical law will not be just for the religious, but will be the requirement for all before they can remain. The rest will be cast out, no matter what their numbers or views might be!
Matt 13:41-43
41 The Son of man shall send forth his angels, and they shall gather out of his kingdom all things that offend, and them which do iniquity;

42 And shall cast them into a furnace of fire: there shall be wailing and gnashing of teeth.

43 Then shall the righteous shine forth as the sun in the kingdom of their Father. Who hath ears to hear, let him hear.
KJV


Sunday - June 17, 2001
(My Birthday - Thank you! - 58)
Sainthood for Mother Theresa

A Vatican commission is considering the case for declaring Mother Teresa a saint, church officials said on Thursday. The 12-member inquiry team, or Tribunal, is looking for instances of miracles caused by Mother Theresa, the Macedonian-born nun who worked in Calcutta's streets for almost half a century.

The process of sainthood involves three stages -- veneration, beatification and canonization. Gathering proof about Mother Teresa is a first step toward beatification, which requires confirmation of a miracle. Sainthood requires certification of another miracle. The team is studying thousands of documents, writings, books, letters and communications relating to the nun as part of the inquiry into her service.

According to papal specifications, a miracle (a "favor" in church terminology) is one in which a person is completely cured of an ailment by wearing a medallion or locket given by the person in question, or through prayer after medical science has failed. The inquiry is scheduled to conclude by Aug. 15.

Mother Teresa was born Agnes Gonxha Bojaxhiu in Skopje, Macedonia in 1910. She founded the Missionaries of Charity order in Calcutta in 1949, went on to meet many world leaders and to receive the Nobel Peace Prize in 1979.

(http://www.cnsnews.com/)

The making Mother Teresa (Theresa) a saint will certainly be a record in shortness of time. The Catholic Church is quickly taking advantage of her popularity. The sinful life that she led will be purged, and only that which is befitting a saint will be remembered. The myth of Mother Teresa is in the making. The truth is that Mother Teresa is no more a saint then any other Christian of note. The Stockwell Orphanage organized and administered by Charles Surgeon in England far surpasses all that Mother Teresa ever did in Calcutta. Spurgeon preached the gospel to all his waifs while Mother Teresa's policy forbid the gospel presentation in Calcutta. Yet, the faithful will soon be encouraged to pray to her rather then Jesus. George Muller prayed for the next meal for his children at the Ashley Down Orphanage. His faith and humility make Mother Teresa's cleaning of toilets rather vain. Neither of these great Christians would allow any prayer aimed toward them. They rightfully taught such practice is blasphemy. The Catholic Church takes persons of lesser character, and lifts them into mythical sovereigns called saints who supposedly can hear and answer prayer. The Bible teaches as both Spurgeon and Muller taught throughout their ministries that only Christ is the mediator between God and Man.
John 14:6
6 Jesus saith unto him, I am the way, the truth, and the life: no man cometh unto the Father, but by me.
KJV

John 14:13-14
13 And whatsoever ye shall ask in my name, that will I do, that the Father may be glorified in the Son.

14 If ye shall ask any thing in my name, I will do it.
KJV

John 16:23
23 And in that day ye shall ask me nothing. Verily, verily, I say unto you, Whatsoever ye shall ask the Father in my name, he will give it you.
KJV

John 16:26
26 At that day ye shall ask in my name: and I say not unto you, that I will pray the Father for you:
KJV

Rom 5:1-2
5:1 Therefore being justified by faith, we have peace with God through our Lord Jesus Christ:

2 By whom also we have access by faith into this grace wherein we stand, and rejoice in hope of the glory of God.
KJV

Rom 8:34
34 Who is he that condemneth? It is Christ that died, yea rather, that is risen again, who is even at the right hand of God, who also maketh intercession for us.
KJV

Eph 3:11-12
11 According to the eternal purpose which he purposed in Christ Jesus our Lord:

12 In whom we have boldness and access with confidence by the faith of him.
KJV

1 Tim 2:1-5
2:1 I exhort therefore, that, first of all, supplications, prayers, intercessions, and giving of thanks, be made for all men;

2 For kings, and for all that are in authority; that we may lead a quiet and peaceable life in all godliness and honesty.

3 For this is good and acceptable in the sight of God our Saviour;

4 Who will have all men to be saved, and to come unto the knowledge of the truth.

5 For there is one God, and one mediator between God and men, the man Christ Jesus;
KJV

Heb 4:14-16
14 Seeing then that we have a great high priest, that is passed into the heavens, Jesus the Son of God, let us hold fast our profession.

15 For we have not an high priest which cannot be touched with the feeling of our infirmities; but was in all points tempted like as we are, yet without sin.

16 Let us therefore come boldly unto the throne of grace, that we may obtain mercy, and find grace to help in time of need.
KJV
The truth is Mother Teresa just like Spurgeon and Muller is, and are sinners. Maybe not as big a sinner as you and I, but still sinners. They are certainly not worthy, or empowered to receive or answer prayer. Only Jesus Christ is without sin. Only Jesus Christ never needed to be turned into a myth. The truth is that a perfect sacrifice was made for sin, and is offered freely to any who will receive Christ as personal savior. If Jesus Christ should be a myth like they are making Mother Teresa, then His sacrifice was worthless, and we are all hopelessly lost with no one to go to.


Monday - June 18, 2001
Sharon-Peres honeymoon ends
By Herb Keinon

JERUSALEM (June 18) - The honeymoon of Prime Minister Ariel Sharon and Foreign Minister Shimon Peres ended at yesterday's cabinet meeting, when deep divisions between the two surfaced publicly for the first time since the national unity government was formed three months ago.

Peres told Sharon that he was not his clerk to take directives from him, in reference to a report broadcast on Israel Radio earlier in the day that Sharon had shelved the idea of a three-way meeting among Peres, Palestinian Authority Chairman Yasser Arafat, and visiting UN Secretary-General Kofi Annan.

The peaceniks have learned nothing. They again think they are strong enough to control. They again think they are accountable to no one. They put their cause above everything including reality.
It is under similar circumstances that the ultimate man of false peace will enter the world scene. A liar who will use peace to establish his rule. He is called the Anti-Christ, and for 3 1/2 years he will provide the world with a false peace of his making. The tragedy is the Anti-Christ's peace leads only to Armageddon in just 7 short years. Only then will Christ establish His Kingdom of real peace for 1000 years. This Kingdom's peace will be based on righteousness. It will be the law for all with no exceptions. It will be enforced with an iron rod which no power can overthrow. Puritanism with Biblical purity is the only acceptable lifestyle for perfect peace to exist in a perfect Kingdom administered by the soon Second Coming of the perfect Jewish King - The Lord Jesus Christ.
Matt 2:2
2 Saying, Where is he that is born King of the Jews? for we have seen his star in the east, and are come to worship him.
KJV

Matt 27:11
11 And Jesus stood before the governor: and the governor asked him, saying, Art thou the King of the Jews? And Jesus said unto him, Thou sayest.
KJV

Matt 27:37
37 And set up over his head his accusation written, THIS IS JESUS THE KING OF THE JEWS.
KJV

John 19:21-22
21 Then said the chief priests of the Jews to Pilate, Write not, The King of the Jews; but that he said, I am King of the Jews.

22 Pilate answered, What I have written I have written.
KJV
Read "Mishpat" the law of the Coming Kingdom!

Tuesday - June 19, 2001
CLASHES OVER PATRIARCHAL HOME

The army declared Tel Rumeida in Hebron a closed military zone Sunday, thereby preventing a planned tour by left wing Knesset Members and Peace Now activists who wished to ensure the enforcement of Friday's court ruling forbidding construction in the area. Instead of the tour, a non-violent clash took place between the Peace Now members and Jewish residents of Hebron.

Supreme Court Justice Dalia Dorner issued an interim injunction Friday ordering all construction work halted at the "archaeological site" of Tel Rumeida. Two PA officials, MK Mossi Raz (Meretz) and archaeologist Dr. Avi Ofer had petitioned the court in an effort to prevent the construction of a residential neighborhood there.

Tel Rumeida, otherwise known as Tel Hebron, is dated back to the biblical Hebron, home of the Patriarchs and later King David. A wall at the site dates to the days of Joshua, and archaeologists recently discovered 40 clay jugs, 4,000 years old, at the entrance to the neighborhood. At the south side of the Tel are the tombs of Jesse and Ruth. Today, the Tel is home to seven brave families, who live in mobile homes that have born the brunt of Arab gunfire from the surrounding hills.
HEBRON
HE'BRON (he'bron; a "community"; "alliance").

1. A town in the mountains of Judah, about three thousand feet above the Mediterranean Sea, and between Beersheba and Jerusalem, being about twenty miles from each. It was named Kiriath-arba (Gen 23:2; Josh 14:15; 15:13). About two miles to the N is Mamre (which see), after Mamre the Amorite (Gen 13:18; 35:27), which is now called el-Khalil ( "the friend"). Among those who lived there were the Canaanites and the Anakim (23:2; 14:15; 15:13), Abraham (Gen 13:18), Isaac and Jacob (35:27). David made it his royal residence (2 Sam 2:1-4; 5:5; 1 Kings 2:11); as did Absalom (2 Sam 15:10). Sarah was buried here (Gen 23:17-20); Joshua took Hebron (Josh 10:36-37; 12:10), and Caleb retook it (14:14). The Romans also captured and destroyed it.

The traditional site of the cave of Machpelah, burial place of some of the patriarchs, is currently marked by the mosque of Hebron, which was formerly a Crusader church and that stands on the site of a church erected by the emperor Justinian in the sixth century. Cenotaphs in the mosque memorialize Abraham and Sarah, Isaac and Rebekah, and Jacob and Leah, who are presumed to have been buried in the cave below.

H.F.V.
(From The New Unger's Bible Dictionary. Originally published by Moody Press of Chicago, Illinois. Copyright (c) 1988.)
During WW I a British Officer went into the cave of Machpelah looking for enemy soldiers possibly hiding there. He had no idea of the significants of where he had gone until later. His testimony is the only known witness to what is there as the site has always been considered too holy to enter. He said he saw nothing but dust! The only end for even the greatest of mankind. Only Jesus is a living savior who overcame death. Only He was resurrected leaving just an empty tomb.

Gen 13:18
18 Then Abram removed his tent, and came and dwelt in the plain of Mamre, which is in Hebron, and built there an altar unto the LORD.
KJV

Gen 23:19-20
19 And after this, Abraham buried Sarah his wife in the cave of the field of Machpelah before Mamre: the same is Hebron in the land of Canaan.

20 And the field, and the cave that is therein, were made sure unto Abraham for a possession of a buryingplace by the sons of Heth.
KJV

Gen 35:27-29
27 And Jacob came unto Isaac his father unto Mamre, unto the city of Arbah, which is Hebron, where Abraham and Isaac sojourned.

28 And the days of Isaac were an hundred and fourscore years.

29 And Isaac gave up the ghost, and died, and was gathered unto his people, being old and full of days: and his sons Esau and Jacob buried him
KJV

Josh 10:39
39 And he took it, and the king thereof, and all the cities thereof; and they smote them with the edge of the sword, and utterly destroyed all the souls that were therein; he left none remaining: as he had done to Hebron, so he did to Debir, and to the king thereof; as he had done also to Libnah, and to her king.
KJV

Josh 14:13-14
13 And Joshua blessed him, and gave unto Caleb the son of Jephunneh Hebron for an inheritance.

14 Hebron therefore became the inheritance of Caleb the son of Jephunneh the Kenezite unto this day, because that he wholly followed the LORD God of Israel.
KJV

Josh 21:13
13 Thus they gave to the children of Aaron the priest Hebron with her suburbs, to be a city of refuge for the slayer; and Libnah with her suburbs,
KJV

2 Sam 2:11
11 And the time that David was king in Hebron over the house of Judah was seven years and six months.
KJV


Wednesday - June 20, 2001
Government reconsidering cease-fire
By Herb Keinon

JERUSALEM (June 20) - The government yesterday began a reevaluation of what Israel is beginning to view as a failed cease-fire, after three Israelis were killed and dozens acts of violence committed in the six days since Israel and the Palestinian Authority formally agreed to the Tenet plan to end the violence.

Defense Minister Binyamin Ben-Eliezer reportedly told a meeting of the mini-cabinet yesterday that since Palestinian Authority Chairman Yasser Arafat has not acted effectively against terror, there is a need to reevaluate the country's policy of restraint.

A security cabinet meeting is scheduled for this morning to discuss Israel's next moves. Because of the continued violence, Israel is not expected to agree to drawing up a timetable for lifting the closure on the territories at a planned security meeting today with the Palestinians. However, it is also unlikely that Israel will significantly strike at the PA before Prime Minister Ariel Sharon meets with US President George W. Bush at the White House next Tuesday.

Interior Minister Eli Yishai, who participated in the mini-cabinet meeting, told reporters while on a tour of Gush Etzion that there is an atmosphere of "directional change" inside the government.

Peace between Israel and the Palestinians is an impossible dream. This generation of Palestinians have been totally corrupted by the hate taught them from birth to death. The home, the news, the school, the religion, the government are all united in the message of hate. It is a culture where the heart has been molded from every source to hate and kill Jews. The option of any moderation or compromise does not exist. When moderation is forced upon them, they know it will not last long for it is not in their heart to accept such action when it comes to the Jew. The heart of the Palestinians is set. Israel now realizes peace is never going to happen because the heart of the Palestinian is beyond change.
Gal 4:22-31
22 For it is written, that Abraham had two sons, the one by a bondmaid, the other by a freewoman.
23 But he who was of the bondwoman was born after the flesh; but he of the freewoman was by promise.
24 Which things are an allegory: for these are the two covenants; the one from the mount Sinai, which gendereth to bondage, which is Agar.
25 For this Agar is mount Sinai in Arabia, and answereth to Jerusalem which now is, and is in bondage with her children.
26 But Jerusalem which is above is free, which is the mother of us all.
27 For it is written, Rejoice, thou barren that bearest not; break forth and cry, thou that travailest not: for the desolate hath many more children than she which hath an husband.
28 Now we, brethren, as Isaac was, are the children of promise.
29 But as then he that was born after the flesh persecuted him that was born after the Spirit, even so it is now.
30 Nevertheless what saith the scripture? Cast out the bondwoman and her son: for the son of the bondwoman shall not be heir with the son of the freewoman.
31 So then, brethren, we are not children of the bondwoman, but of the free.
KJV

Thursday - June 21, 2001
BIN LADEN, HIZBALLAH PROTAGONISTS IN PA INTIFADA

By Julie Stahl, CNSNews.com Jerusalem Bureau Chief - Saudi-born terror chief Osama bin Laden and the Iranian-backed Hizballah organization are playing an increasing role in the Palestinian uprising against Israel, promoting their own interests, Israeli counter-terrorism experts said on Tuesday.

They warned that the problem was not only Israel's, but should be cause for concern for the entire international community.

Afghan veterans of the war against the former Soviet Union, now under the umbrella of Bin Laden, aim to turn the Israeli-Palestinian conflict into a wider Islamic struggle, said Yoram Schweitzer, researcher at the International Policy Institute for Counter-Terrorism (ICT), north of Tel Aviv.

"The Afghan alumni ... see the opportunity to transform this conflict into a religious one," Schweitzer said at a briefing for foreign journalists in Jerusalem.

Bin Laden, wanted in the U.S. for masterminding the twin embassy bombings in Kenya and Tanzania three years ago, operates by absorbing local interests into his terrorist network and supporting groups to carry out terror attacks, Schweitzer explained.

They carry out clusters of "spectacular attacks" every two or three years aimed at causing as many casualties as possible. Besides planning attacks against U.S. interests they are preparing for attacks against Israelis as well, he said.

According to Schweitzer, Bin Laden has vowed to send 150 activists to the Israel-PA region. If he manages to send even ten, they will be experts in carrying out large attacks, he said.

He described Bin Laden himself as being "efficient and professional" in preparing attacks, and he said the Saudi militant took his time doing so.

Bin Laden is the man I watch not Arafat. If I understand the Bible correctly, the coming invasion of Israel will be an Islamic attack spearheaded from the North. A Bin Laden type Moslem leader will set in motion the Last Jihad of Ezekiel 38 & 39. An Islamic Gog from the North are identified as the ones whom God says will begin the events that will end Islam forever. They will flow over the Caucasus Mountains of which Mount Ararat (Noah's landing site) is one of the peaks. They will be joined by Turkey (Togarma), and all the Moslems from around the Black Sea (Gomer) as the invasion is engaged. Out of the East will come old Persia, and from the South will come the Moslems of North Africa (Cush, & Put). It is so clear this is an Islamic Jihad in today's arrangement of the Nations first settled by these Biblical grandsons of Noah. This Last Jihad has only one purpose from God's perspective. It will open the door to the building of the Third Jewish Temple on the Temple Mount in Jerusalem. It is all about the Second Coming of Christ as King of the Jews!
Ezek 38:1-9
38:1 And the word of the LORD came unto me, saying,
2 Son of man, set thy face against Gog, the land of Magog, the chief prince of Meshech and Tubal, and prophesy against him,
3 And say, Thus saith the Lord GOD; Behold I am against thee, O Gog, the chief prince of Meshech and Tubal:
4 And I will turn thee back, and put hooks into thy jaws, and I will bring thee forth, and all thine army, horses and horsemen, all of them clothed with all sorts of armour, even a great company with bucklers and shields, all of them handling swords:
5 Persia, Ethiopia (Cush), and Libya (Put) with them; all of them with shield and helmet:
6 Gomer, and all his bands; the house of Togarmah of the north quarters, and all his bands: and many people with thee.
7 Be thou prepared, and prepare for thyself, thou, and all thy company that are assembled unto thee, and be thou a guard unto them.
8 After many days thou shalt be visited: in the latter years thou shalt come into the land that is brought back from the sword, and is gathered out of many people, against the mountains of Israel, which have been always waste: but it is brought forth out of the nations, and they shall dwell safely all of them.
9 Thou shalt ascend and come like a storm, thou shalt be like a cloud to cover the land, thou, and all thy bands, and many people with thee.
KJV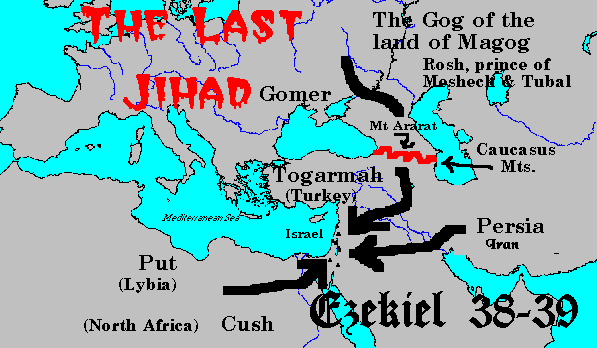 Read: Mishpat, - This Place, - The Second Woe, - The Last Jihad, - The Gentile Stranger in a Jewish Dispensation. You will find them Biblical, and eye opening.

Friday - June 22, 2001
Up to 300 N. Koreans in Egypt for missile program
SPECIAL TO WORLD TRIBUNE.COM
Thursday, June 21, 2001
WASHINGTON — Cairo is proceeding with plans to buy North Korean missile engines and up to 300 North Korean technicians are in Egypt for the missile program according to new intelligence reports.
The engines are for the No-Dong missiles, which has a range of between 1,000 and 1,300 kilometers.
The number of North Koreans are said to have increased over the last two years both in Egypt and in neighboring Libya. Much of Egyptian missile development is said to be taking place in Libya, Middle East Newsline reports.
The latest intelligence reports, the officials said, undermine Egypt's credibility and some members of Congress are threatening to review all U.S. aid to Cairo unless the No Dong sale is terminated. The issue was raised last month by then chairman of the Senate Appropriations subcommittee Sen. Mitch McConnell, a Republican from Kentucky.
These No-Dong missiles can hit any target in Israel from Egypt. The Egyptians are obviously planning to produce them in mass. It is also obvious that Egypt is sharing this new purchased technology with other Islamic countries such as Libya. Put was the son of Ham who settled in modern day Libya. It is no wonder that the King James Bible translates Put (Pwut) as Libya in Ezekiel 38:5. Libya is part of the Islamic invasion arm from the South. The No-Dong missiles will certainly build the confidence of Islamic countries to invade Israel. Libya will join the Islamic Gog in the latter days according to the Bible. This invasion will be met by the wrath of God, and Islam will be eradicated from the Holy Land removing the impediment to building the Third Jewish Temple in Jerusalem.
Ezek 38:5
5 Persia, Ethiopia, and Libya with them; all of them with shield and helmet:
KJV


Ezek 38:16-19
16 And thou shalt come up against my people of Israel, as a cloud to cover the land; it shall be in the latter days, and I will bring thee against my land, that the heathen may know me, when I shall be sanctified in thee, O Gog, before their eyes.

17 Thus saith the Lord GOD; Art thou he of whom I have spoken in old time by my servants the prophets of Israel, which prophesied in those days many years that I would bring thee against them?

18 And it shall come to pass at the same time when Gog shall come against the land of Israel, saith the Lord GOD, that my fury shall come up in my face.

19 For in my jealousy and in the fire of my wrath have I spoken, Surely in that day there shall be a great shaking in the land of Israel;
KJV

Saturday - June 23, 2001
Israeli EROS A1 conducts first manoeuvre
Israel's EROS A1 high-resolution imaging satellite has performed its first orbit-raising manoeuvre since its launch from Russia's Svobodny site on 5 December 2000.
Japan may buy North Korean missiles
Such an extraordinary idea has a certain logic PERHAPS in order to have a reputation for exporting at least one well-made
product, not its uncuddly children's toys, North Korea has gone into the business of making and exporting ballistic missiles. Its customers include Libya, Syria, Pakistan and Iran. Missiles are a money-spinner for the hermit-like communist dictatorship in Pyongyang. Now FOREIGN REPORT has been told of a surprising new development.

The Taliban and Pakistan
IN LATE May the leader of the Taliban, the fundamentalist Islamic movement that currently rules all but a small sliver of Afghanistan, announced that all Hindus in the country would have to wear a piece of yellow cloth to distinguish them from their Muslim neighbours. His justification was that the yellow cloth would serve as a protection against harassment by Taliban policemen. Really?

King Abdullah's headache
WHERE is a West Bank Palestinian family, exhausted by the Intifada and Israel's attempts to crush it, most likely to go? And where would Jordanian citizens, living illegally in the West Bank, seek safety? King Abdullah of Jordan thinks he knows the answer. So does the expansionist Israeli prime minister, Ariel Sharon, who once famously said: "Jordan is Palestine."

Happenings in Israel
In continuing violence, a mortar shell was fired at a crossing point between Israel and the Gaza Strip Thursday, causing extensive damage to vehicles parked there but no casualties. It marked the first time that such a large mortar shell had been used in the current conflict.

And on Wednesday, 59-year-old Ilya Kirivitz became the 115th Israeli to be killed since the outbreak of violence and terror in September. He was shot dead as he visited the home of a Palestinian in a village near his small home settlement of Homesh, which earlier this week lost another member in a drive-by shooting.

The Martyrs of the Al-Aksa Intifada, a group linked with Arafat's Fatah faction claimed responsibility for killing and vowed more attacks on Israelis.

Meanwhile there have been reports of Jewish settlers going on rampages, burning Palestinian-farmed fields and uprooting olive trees.

A spokesperson for the council representing settlers in the disputed areas, Yehudit Tayar, called such actions "an outburst of frustration" in reaction to the lack of security on the roads.

"It's hell out there," Tayar said. "There are shootings all the time."

CONVOYS ORDERED AS THIRD CITIZEN MURDERED; TWO SOLDIERS KILLED IN GAZA

Ilya Krivitz, 62, was the third Israeli to be murdered this week, the second from Chomesh, a community sandwiched between PA-controlled strips of land. Early Wednesday evening, Krivitz was shot in the head at close range on his way to the home of a Palestinian associate living in Silat a-Daher. The fatal attack came moments after the Israeli Cabinet reaffirmed their commitment to the ceasefire, and during Israel-PA security coordination meetings in Jerusalem.
Two IDF soldiers were killed Friday, when a booby-trapped jeep exploded as they were examining it near the northern Gaza Strip settlement of Dugit. A third soldier was lightly wounded. The Givati regiment soldiers were on a routine patrol along the settlement ponds near the coast when they noticed the suspicious jeep nearby. Upon reaching the vehicle, it exploded, and
then they were fired upon. IDF troops returned fire, injuring a number of the terrorists.

Reality seems to say we are moving more toward a Last Jihad then a lasting peace? Things can change quickly on the surface, but a change in heart is often not involved. A superficial peace is always possible, and may be in the offering right now (in spite of the reality)? Ezekiel 38 indicts a superficial peace will be in effect before the Last Invasion of Israel takes place. I just do not know? The peace of Ezekiel 38 may also apply to a final invasion of Israel during the millennial reign of Christ? It is not uncommon for the Biblical prophets to see history repeat itself. A near and far view of a similar event such as the two destructions of the Jewish Temple are often revealed. Ezekiel 38 & 39 is just such a prophecy. The near view is the Last Jihad of our generation where they spend seven years cleansing the land of the dead. The far view is at the end of the millennial reign of Christ when Satan is released from his imprisonment for a moment, and mankind rebels with a final invasion of Israel. The peace of Ezekiel 38 may only apply to the last invasion, and not the present Last Jihad yet to take place?
Ezek 38:11-15
11 And thou shalt say, I will go up to the land of unwalled villages; I will go to them that are at rest, that dwell safely, all of them dwelling without walls, and having neither bars nor gates,

12 To take a spoil, and to take a prey; to turn thine hand upon the desolate places that are now inhabited, and upon the people that are gathered out of the nations, which have gotten cattle and goods, that dwell in the midst of the land.

13 Sheba, and Dedan, and the merchants of Tarshish, with all the young lions thereof, shall say unto thee, Art thou come to take a spoil? hast thou gathered thy company to take a prey? to carry away silver and gold, to take away cattle and goods, to take a great spoil?

14 Therefore, son of man, prophesy and say unto Gog, Thus saith the Lord GOD; In that day when my people of Israel dwelleth safely, shalt thou not know it?

15 And thou shalt come from thy place out of the north parts, thou, and many people with thee, all of them riding upon horses, a great company, and a mighty army:
KJV



Ezek 39:9
9 And they that dwell in the cities of Israel shall go forth, and shall set on fire and burn the weapons, both the shields and the bucklers, the bows and the arrows, and the handstaves, and the spears, and they shall burn them with fire seven years:
KJV

Ezek 39:11-16
11 And it shall come to pass in that day, that I will give unto Gog a place there of graves in Israel, the valley of the passengers on the east of the sea: and it shall stop the noses of the passengers: and there shall they bury Gog and all his multitude: and they shall call it The valley of Hamon-gog.

12 And seven months shall the house of Israel be burying of them, that they may cleanse the land.

13 Yea, all the people of the land shall bury them; and it shall be to them a renown the day that I shall be glorified, saith the Lord GOD.

14 And they shall sever out men of continual employment, passing through the land to bury with the passengers those that remain upon the face of the earth, to cleanse it: after the end of seven months shall they search.

15 And the passengers that pass through the land, when any seeth a man's bone, then shall he set up a sign by it, till the buriers have buried it in the valley of Hamon-gog.

16 And also the name of the city shall be Hamonah. Thus shall they cleanse the land.
KJV



Rev 20:7-15
7 And when the thousand years are expired, Satan shall be loosed out of his prison,
8 And shall go out to deceive the nations which are in the four quarters of the earth, Gog and Magog, to gather them together to battle: the number of whom is as the sand of the sea.
9 And they went up on the breadth of the earth, and compassed the camp of the saints about, and the beloved city: and fire came down from God out of heaven, and devoured them.
10 And the devil that deceived them was cast into the lake of fire and brimstone, where the beast and the false prophet are, and shall be tormented day and night for ever and ever.
11 And I saw a great white throne, and him that sat on it, from whose face the earth and the heaven fled away; and there was found no place for them.
12 And I saw the dead, small and great, stand before God; and the books were opened: and another book was opened, which is the book of life: and the dead were judged out of those things which were written in the books, according to their works.
13 And the sea gave up the dead which were in it; and death and hell delivered up the dead which were in them: and they were judged every man according to their works.
14 And death and hell were cast into the lake of fire. This is the second death.
15 And whosoever was not found written in the book of life was cast into the lake of fire.
KJV
This latest Biblical event (The Great White Throne) is the end of time as we know it. This is the forever end of sin. There will be no 7 years to bury the dead. There will be no earth left to cleanse. The next Biblical event is a new heavens and new earth. A sinless eternal future for those who were written in the Book of Life. Who were bought with the blood of Christ, and miraculously cleansed of all sin. Who's abode is in the Heavenly Jerusalem which is the only object the Bible says will survive the end to go into a righteous heavenly blissful beginning in the new heavens and new earth.

Sunday - June 24, 2001
Threat Scrambles US Troops in Mideast By Robert Burns
AP Military Writer
Saturday, June 23, 2001; 1:23 a.m. EDT WASHINGTON –– In response to a terrorist threat, a Marine Corps contingent in Jordan cut short its training session and returned to its ships, while the U.S. 5th Fleet sent its ships out of port in Bahrain.
U.S. military forces throughout the Persian Gulf were put on a heightened state of alert Friday as a precaution, although the threat picked up by U.S. intelligence agencies was not specific about an intended target, according to U.S. officials who discussed the matter on condition they not be identified.
One official said the threat was against Americans but not necessarily the U.S. military. Another official said the intelligence warning suggested that a terrorist attack was imminent.
The State Department issued a "worldwide caution" urging U.S. citizens to maintain a high level of vigilance abroad. It said the U.S. government has learned that American citizens and interests abroad may be at risk of a terrorist attack from extremist groups.
************************************************
US, EU look to salvage cease-fire
By Herb Keinon and Janine Zacharia
Prime Minister Ariel Sharon faces mounting criticism over the porous cease-fire on the eve of an international campaign pushing for its implementation.
Ross: Arafat really can't do a permanent deal
By Herb Keinon
Former US Middle East peace envoy Dennis Ross talks to Herb Keinon about the breakdown of the peace process, and what needs to be done now.

Peace is demanded by the world. The pressure is on to do the impossible. Terrorism because of Israel effects everyone worldwide. The only peace this generation understands is one based on lies, and false promises that will never last. The phony peace-makers do their best to quell the public outcry with deception. Real peace will only come with changed hearts. The only one who can do such a miracle is God. He sent His Son (The Prince of Peace) the first time as a suffering servant only to have most men reject Him. When Jesus comes again, He will come as the conquering King. Rejection will not be an option on that day. Men will either turn to Christ to have their hearts changed, or they will be cast out of His coming Kingdom into everlasting torment! The time is getting short. Today is the day you should turn to Christ! See "Who is DDSrail" about salvation testimony.
Isa 9:6-7
6 For unto us a child is born, unto us a son is given: and the government shall be upon his shoulder: and his name shall be called Wonderful, Counseller, The mighty God, The everlasting Father, The Prince of Peace.

7 Of the increase of his government and peace there shall be no end, upon the throne of David, and upon his kingdom, to order it, and to establish it with judgment and with justice from henceforth even for ever. The zeal of the LORD of hosts will perform this.
KJV
Read "Mishpat" for a Biblical view of this coming Kingdom!

Monday - June 25, 2001
(13:15) Police catch ten wanted Palestinians, foil infiltration
By The Jerusalem Post Internet Staff

A Police Northern Command anti-terrorism unit arrested a busload of Palestinians trying to illegally enter Israel near Jenin this morning.

Ten of the 62 passengers were on the General Security Service's wanted list, security forces reported.

One of the Palestinians was found wearing a kippa as another attempted to throw a kippa he was holding out of a bus window while security forces carried out a search of the vehicle.

The bus, stopped near the village of Jalame, was painted in Egged livery.

****************************************************
Arafat to PM: Time to make peace, not incite


By Danny Rubinstein



"The cease-fire agreement applies to all the territories, including "B" and "C" lands, all the settlements and all Israelis. The cease-fire must be total," Palestinian Authority (PA) Chairman Yasser Arafat declared Friday to a group of Israeli journalists at his Ramallah office.

The sweeping declaration differs from remarks made recently by some of Arafat's top PA colleagues, who hold that the PA can only be accountable for "A" lands (which are under Palestinian security control). Arafat, however, modified his statement, saying that his ability to clamp down on violence in areas in which Israel retains some measure of control is limited: "If something happens in B or C areas, I can't send Jibril Rajoub and his security men to go over and see what's going on in them."
***************************************************
Givati unit intercepts terror squad


Jewish settlers block roads and burn Palestinian fields


By Amos Harel
Ha'aretz Military Correspondent and Itim


Just hour's after Friday's suicide car bomb attack near the Dugit settlement in Gaza, which left two IDF soldiers from the Givati brigade dead, soldiers from the same Givati unit thwarted another Palestinian attempt to attack Israeli targets. In this second Givati clash, an armed Palestinian was killed, and two of his cohorts were captured.

Earlier Friday afternoon, signs of mounting Jewish anger in the territories flared when three Jewish settlers were arrested for lighting a blaze in a field near the Sinjil village on the West Bank.

Friday night, a Givati commando unit in ambush north of Gaza's Kisufim junction spotted three Palestinians trying to climb the border fence and infiltrate into Israel. The Givati soldiers opened fire, killing one of the would-be infiltrators, and delivering the other two to the Shin Bet security service for questioning.

Palestinian sources said that the dead man was Muhind Sawidan, 20, a resident of the Nuseirat refugee camp in Gaza and a Hamas activist.

A pistol and four hand grenades were seized from the Palestinian trio. Israeli Defense Forces (IDF) officers believe the three planned a large-scale attack within Israeli territory, and that they probably belonged to Hamas.

Friday afternoon, dozens of settlers from Shilo and elsewhere blocked Palestinian traffic on the Ramallah-Nablus road, near Sinjil. The three settlers were detained, and their weapons were confiscated, after they blocked-off the road and set fire to the Palestinian field.

Also on Friday morning, settlers blocked off the road connecting residents of the Za'atra village to other Palestinian communities. Some scuffling between the settlers and Palestinians was reported. IDF forces arrived at the scene to restore order.

Palestinian sources claimed that, in addition to blocking Palestinian cars around the Za'atra junction, Jewish settlers hurled stones at the Palestinian vehicles. The sources also said settlers damaged property Friday at the Silat al-Dahar village, where Homesh settler Iliya Krivitch was killed last Wednesday. They said settlers burned olive groves at Silat al-Dahar and that IDF soldiers stopped local residents and fire-fighters from reaching the blaze.


Tuesday - June 26, 2001
Dear CBS HealthWatch member:
Experts agree: Never drink and drive. And avoid alcohol if you are pregnant; are taking particular medications; have liver problems or certain other ailments (consult your doctor); or can't restrict your drinking to moderate levels.
But what is "moderate"? And how much is too much? Should you cut down on your drinking, or abstain altogether? Recent studies have muddled the message. Some suggest that a few drinks a week may actually do your body good. Others point to potential harm. So what's a health-conscious adult to do? This issue of Mousecalls rounds up a few takes on the debate.
What is the poor Christian suppose to do? Didn't Christ turn the water into wine? How could moderation be the intent after the wine ran out? The host should have provided enough wine for moderation - that is if wine is the proper English word translated from the Greek? The truth is I can teach you as much Greek as any expert can know right here about translating wine in Greek. In Hebrew, there is a word for grape juice (like Welches), and another for wine (like Mogen David). Greek has no distinction between the two types of grape juice. In Greek, the translator must decide if it is fermented or non fermented juice! Greek has only one word for both types of juice. The context is the only reliable guide when it comes to translating wine in Greek. You are as able as any expert to make such a determination every time you read "wine" in the New Testament.
If your Christ could not have known that pregnant woman could permanently maim or kill their baby by drinking His wine, then you translate it Mogen David. If your Christ would not do such a thing, then translate it Welches. If your Christ cared not for those with weak livers, then it's Mogen David for you. If your Christ is more compassionate and wise, then it's Welches for you! It is very easy in the Greek to determine the right translation for wine. God has put it in your hands to decide. Moderation is not possible in Hebrew. It is one side of the fence or the other. I really think it is true in the Greek also. Your either on one side of the fence when it comes to consuming rotted fruit juice, or you'll be an abstainer like me.
Prov 20:1
20:1 Wine is a mocker, strong drink is raging: and whosoever is deceived thereby is not wise.
KJV



Isa 36:17
17 Until I come and take you away to a land like your own land, a land of corn and wine, a land of bread and vineyards.
KJV



John 2:3-11
3 And when they wanted wine, the mother of Jesus saith unto him, They have no wine.
4 Jesus saith unto her, Woman, what have I to do with thee? mine hour is not yet come.
5 His mother saith unto the servants, Whatsoever he saith unto you, do it.
6 And there were set there six waterpots of stone, after the manner of the purifying of the Jews, containing two or three firkins apiece.
7 Jesus saith unto them, Fill the waterpots with water. And they filled them up to the brim.
8 And he saith unto them, Draw out now, and bear unto the governor of the feast. And they bare it.
9 When the ruler of the feast had tasted the water that was made wine, and knew not whence it was: (but the servants which drew the water knew;) the governor of the feast called the bridegroom,
10 And saith unto him, Every man at the beginning doth set forth good wine; and when men have well drunk, then that which is worse: but thou hast kept the good wine until now.
11 This beginning of miracles did Jesus in Cana of Galilee, and manifested forth his glory; and his disciples believed on him.
KJV



1 Tim 3:2-4
2 A bishop then must be blameless, the husband of one wife, vigilant, sober, of good behaviour, given to hospitality, apt to teach;

3 Not given to wine, no striker, not greedy of filthy lucre; but patient, not a brawler, not covetous;

4 One that ruleth well his own house, having his children in subjection with all gravity;
KJV

Wednesday - June 27, 2001
SETTING A PROPER BRITISH EXAMPLE

"The British are not good examples of behavior," were the recent words of Israel's Internal Security Minister Uzi Landau. The statement in itself is enough to irk any well-to-do Brit. What a cheek! "Chutzpah," we say in Hebrew. Surely it is a brave man who would challenge the great imperial conqueror, the most civilized of nations. .....
One of the least subtle examples of this incitement must be the recent participation of a veteran BBC correspondent at a terrorist gathering in the Gaza Strip. Faid Abu Shimalla reportedly declared at a May 6 Hamas rally that reporters and the media are "waging the campaign [against Israel] shoulder-to-shoulder together with the Palestinian people."

Not long after this publicity blunder, the BBC's Sunday breakfast show with David Frost went to great lengths to stress that the Palestinian Authority has no control over Hamas, a dissident terrorist group so-called.

According to an October 25, 2000 report in THE WASHINGTON POST, however, these perpetrators of some of the most deadly terror attacks to hit Israel, meet regularly with Palestinian Authority officials.

BBC correspondents extend their double standard to their supposedly objective reports. After a series of bombings -- one by the IRA in London, and two by Hamas in Israel -- the BBC labeled IRA bombers as "terrorists," but called Palestinian bombers by the far milder term "militants." This despite the fact that the IRA at least gave prior warning of their attack,
something Hamas would never do because of its intent to kill Jews. .......
Daniel Doron, in Thursday's JERUSALEM POST, examined a particularly transparent scene in which the BBC used the age-old blood libel against the Jewish people. Against the background of a pile of skulls, the BBC's Hillary Anderson began a report with, "Deep underground in Bethlehem are the remnants of an atrocity so vile, so far back in history - King Herod's
slaughter of the innocents."

The subject of the segment was revealed as the deaths of Palestinian children during the recent intifada. Herod's massacre was evoked to remind the viewer that Jews, who tried to kill the infant Christ, are again busy killing innocent children. Anderson's convenient lapse in memory clouds an otherwise telling point: Herod's victims were Jewish babies.

Anti-Semitism (hate against Jews) is not limited to Islam. The support worldwide that Islam receives is not because of wanting favor for oil. It is because there is worldwide hate for the Jew. It is not limited to the skin heads, but found in the most prestigious elements in many countries. It is why the BBC can report the Middle East news the way it does. It is the way many influential people want to hear the news presented. God may very soon destroy Islam because of their hate for the Jew. That destruction will not end the hate. Soon the whole world is going to be pressed to submit to God's Jewish King in Jerusalem. The hate of the world against a Jewish King will be as great as that of Islam today. The bottom line is not really hate for the Jew, but hate for the Jewish King who will have the power to cause all to submit to His righteousness. All governments, all religions, all must with no exception submit to His puritanical righteousness or be cast out of His coming Kingdom. Anti-Semitism will be the first thing abolished at the Second Coming of Christ.
Matt 27:35-37
35 And they crucified him, and parted his garments, casting lots: that it might be fulfilled which was spoken by the prophet, They parted my garments among them, and upon my vesture did they cast lots.

36 And sitting down they watched him there;

37 And set up over his head his accusation written, THIS IS JESUS THE KING OF THE JEWS.
KJV



Rev 15:3-4
3 And they sing the song of Moses the servant of God, and the song of the Lamb, saying, Great and marvellous are thy works, Lord God Almighty; just and true are thy ways, thou King of saints.

4 Who shall not fear thee, O Lord, and glorify thy name? for thou only art holy: for all nations shall come and worship before thee; for thy judgments are made manifest.
KJV



Rev 17:13-14
13 These have one mind, and shall give their power and strength unto the beast.

14 These shall make war with the Lamb, and the Lamb shall overcome them: for he is Lord of lords, and King of kings: and they that are with him are called, and chosen, and faithful.
KJV


Rev 19:14-17
14 And the armies which were in heaven followed him upon white horses, clothed in fine linen, white and clean.

15 And out of his mouth goeth a sharp sword, that with it he should smite the nations: and he shall rule them with a rod of iron: and he treadeth the winepress of the fierceness and wrath of Almighty God.

16 And he hath on his vesture and on his thigh a name written, KING OF KINGS, AND LORD OF LORDS.

17 And I saw an angel standing in the sun; and he cried with a loud voice, saying to all the fowls that fly in the midst of heaven, Come and gather yourselves together unto the supper of the great God;
KJV


Thursday - June 28, 2001
WAR ZONE REMAINS THE CITY OF MIRACLES

Seven year old David Struk was shot in Hebron Monday by Palestinian gunmen on the Abu Sneneh hills overlooking the Jewish enclave. He was playing on the patio next to his apartment when a bullet fragment hit him in the chest. According to medical reports, the fragment penetrated his lungs and stopped about a centimeter from major blood vessels leading from the lungs to the heart. He suffered a hemotoma, is presently hospitalized and doctors are hoping that the injury will heal with no further complications.

Meanwhile, Batya Cohen, whose son was married Monday night, and whose apartment is below the Struk family, found a bullet hole in her dress Tuesday. She and her husband were standing outside at the time of the shooting. Her husband, Rabbi Michael Cohen, was scratched on the neck by the bullet.

The lengthy spate of gunfire was a blatant violation of the cease-fire, responded Defense Minister Binyamin Ben-Eliezer. "Israel is monitoring what is happening and will respond appropriately," he said. "The events in Hebron are more testimony to the fact that the Palestinians are not fulfilling their obligations," he added. As well as the young Struk, four security personnel were wounded in the Abraham Avinu neighborhood of the city.


Friday - June 29, 2001
Catholic Parishioners Go Door-to-Door to Win Back Latinos

Some 200 Catholic Latinos from local parishes recently fanned out in heavily Latino neighborhoods of Northwest Washington, D.C., in an evangelization effort sponsored by the Archdiocese of Washington. They handed out posters and fliers inviting people to the Catholic Festival of Faith, an all-day event of music, speeches and films about the church.

"It's very unusual that a Catholic goes door-to-door, talking of Jesus Christ and how much He loves us all," says Merecedes Montano, who participated in the effort. Unusual it used to be. Concern about the loss of traditionally Catholic Latinos to Protestant evangelical churches has prompted more Catholics to respond in kind.
This is religion! It matters not whether Catholic, Protestant, or whatever. It is fiesta to draw the parishioners. It is feel good, have a pleasant experience, why not come back and try us again.
I pastored a small Church in the Chicago suburbs not far from the Indiana boarder. We were having VBS. I passed out flyers going door to door inviting children to come. The first morning I drove my old van to a housing project where many children had expressed an interest in coming. As I went around knocking on doors gathering children, in pulled two modern Grayhound type busses. Soon the parking lot was full of children running from bus to bus. The children I had gathered soon joined in with their friends. They came back and said that one bus is going to give us hotdogs to go to their VBS. The other bus is going to give us ice cream. What will you give us? I gave them the answer that has been my life long ministry response to such things. I said I will give you the Word of God. I have never given out religion. I have always been faithful, especially with little children. Three children came with me, and the rest became that years statistic making a super church yearly project even bigger.
Titus 1:9
9 Holding fast the faithful word as he hath been taught, that he may be able by sound doctrine both to exhort and to convince the gainsayers.
KJV


Saturday June 30, 2001
DEEP EU INVOLVEMENT IN ISRAELI POLITICS

European Union officials have defended the support they provide to Israeli leftist organizations. An investigation by MA'ARIV journalist Yoav Yitzhak revealed that the EU provides hundreds of thousands of euros a year to groups such as Peace Now.

"We don't look at the political complexion of the people who apply to us," an EU official said. "We look at the project and if it meets our criteria, it is a candidate for our support." However, he said, "We don't support projects under the EU People to People program that do not support the peace process."

During a Knesset debate on the issue, MK Benny Elon (National Union-Yisrael Beiteinu) slammed Israeli organizations he said are acting as "agents for the political agenda of foreign countries."

Elon read out Peace Now's program from May 1998 through April 1999 sent to the EU explaining its use of the funds. According to the document Elon presented, the money was spent on advertising for its activities, including distribution of 12,000 posters reading "Bring Back Peace," "Netanyahu is killing Peace," and "Netanyahu must go."

"The EU is paying for this?" Elon asked, and urged MKs to sign a protest letter to the EU calling on it to stop interfering in Israel's internalvpolitical affairs.

THE REAL OPPONENTS OF PEACE

Former U.S. President Bill Clinton said at a private party recently that PLO leader Yasser Arafat is to blame for the failure of Israeli-Palestinian peace negotiations. According to NEWSWEEK, Clinton said that three days prior to the end of his presidency, Arafat called to say goodbye. "He told me I was a great man," Clinton said. "I told him that I wasn't, that I was
a giant failure, and that it was his fault."

One up-and-coming campaign aims to strip Arafat of his Nobel Peace Prize. To this end a website has been built (http://www.deprizearafat.com/), and articles such as Joshua Hasten's in WorldNetDaily.com are in circulation. Hasten lists some of Arafat's "accomplishments."

This peace process is just so phony it should make everyone sick! The Peaceniks are the most phony! After the fiasco of the Barak (anti-Netanyahu) government that proved the Palestinians do not want peace. The peaceniks just continue as the blind lead the blind. The peacenik draft dodger Clinton openly revealed the obstacle to his peace efforts was not Israel, but Arafat. Yet, the blind gave Arafat the Nobel Peace Prize? This is all so phony. Yet, the world calls this bringing peace to the Middle East?
God is the only one who will bring real peace! He will change the hearts of those willing to submit to His righteousness. It won't be this phony baloney peace of the daily news. It will be righteous peace grounded in a soon coming righteous Kingdom. This world has not seen this kind of peace since before the fall of Adam. It is not religion; It is Biblical righteousness!
1 Cor 15:42-52
42 So also is the resurrection of the dead. It is sown in corruption; it is raised in incorruption:
43 It is sown in dishonour; it is raised in glory: it is sown in weakness; it is raised in power:
44 It is sown a natural body; it is raised a spiritual body. There is a natural body, and there is a spiritual body.
45 And so it is written, The first man Adam was made a living soul; the last Adam was made a quickening spirit.
46 Howbeit that was not first which is spiritual, but that which is natural; and afterward that which is spiritual.
47 The first man is of the earth, earthy: the second man is the Lord from heaven.
48 As is the earthy, such are they also that are earthy: and as is the heavenly, such are they also that are heavenly.
49 And as we have borne the image of the earthy, we shall also bear the image of the heavenly.
50 Now this I say, brethren, that flesh and blood cannot inherit the kingdom of God; neither doth corruption inherit incorruption.
51 Behold, I shew you a mystery; We shall not all sleep, but we shall all be changed,
52 In a moment, in the twinkling of an eye, at the last trump: for the trumpet shall sound, and the dead shall be raised incorruptible, and we shall be changed.
KJV

Edited by DDSrail
Read today's news from a contemporary view of the Old Testament
News - 2000 Jan - 01 Feb - 01 Mar - 01 Apr - 01 May - 01 Jun - 01 Jul - 01 Aug - 01 Sep - 01 Oct - 01