Know In What Era We Minister
---
Getting frustrated in your ministry? Think no one else is taking a stand on the Bible but you? Feel like your ministering in the wrong period of time? Do they flock to the hype, but not to the Bible? Do you feel like your a round peg in a square hole? Well, don't give in! Your not alone!
---

Revelations 3:14-22
14) And unto the angel of the church of the Laodiceans write; These things saith the Amen, the faithful and true witness, the beginning of the creation of God;
15) I know thy works, that thou art neither cold nor hot: I would thou wert cold or hot
16) So then because thou art lukewarm, and neither cold nor hot, I will spue thee out of my mouth.
17) Because thou sayest, I am rich, and increased with goods, and have need of nothing; and knowest not that thou art wretched, and miserable, and poor, and blind, and naked:
18) I counsel thee to buy of me gold tried in the fire, that thou mayest be rich; and white raiment, that thou mayest be clothed, and that the shame of thy nakedness do not appear; and anoint thine eyes with eyesalve, that thou mayest see.
19) As many as I love, I rebuke and chasten: be zealous therefore, and repent
20) Behold, I stand at the door, and knock: if any man hear my voice, and open the door, I will come in to him, and will sup with him, and he with me.
21) To him that overcometh will I grant to sit with me in my throne, even as I also overcame, and am set down with my Father in his throne.
22) He that hath an ear, let him hear what the Spirit saith unto the churches.
Revelations 2 & 3
reveal great differences between local Churches as the Apostolic Age drew to a close.
Many commentators see these Local Churches as also representing a bigger picture of the entire Church Age.



They see the different characteristics of Christian behavior that dominate historical eras.



Since the Church Age ends at the pretribulation rapture, the Laodicean Church can only represent the dominate characteristic of Christians living just before the rapture.



This can't be the Church during the tribulation because there will be no true Church after the rapture. Only The Great Apostate Church (enemy of Israel) exists during the tribulation.



Look to Israel, to Jerusalem, to the Temple, to the Two Witnesses, and to the 12,000 Levitical Temple workers who will be part of the larger 144,000 Hebrews of a new dispensation.



I'm sure, after the rapture, the denominations will continue unscathed. There will be Roman Catholics, Lutherans, Baptists, and most certainly TV charismatic miracle meetings. The Southern Baptists will still hold Conventions. But, no true conversions will accompany any of their Gospels. Millions will go forward to join in with the Great Apostasy of that hour. We can see it building today! Liberal, Conservative, all joining together in an apostate gospel that unifies all in the effort. All Biblical doctrine that separates the real truth from this apostate truth will be disregarded as the hype intensifies. The only Christianity of the tribulation will be Apostate! It will be successful just as the Charismatic Movement is today. It's foundation will be the same false doctrine, or no doctrine whatsoever.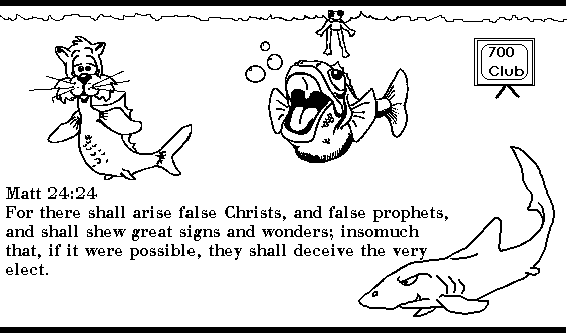 We as well call the cults part of the Church as call whatever continues through the rapture as the Church. The last Church is Laodicea - what comes after is Apostate (no Church).



It should be no surprise to dispensationalists that the Church Age ends in failure.



Every dispensation ended with man failing to fulfill his responsibility to God.



We may like to think that the Church would do better then Adam, Noah, or the Nation of Israel, but the last Church of the Laodiceans doesn't treat Christ any better then the crowd who called for Barabbas.



To reach the category of being "spued from God's mouth" is a strong indictment! What failure in responsibility sets the Laodiceans in such a position that God must end the entire Church Age because of them?
I believe it is when the scriptural line of separation between saved and unsaved is lost. When doctrine becomes meaningless, or is disregarded with lip service alone.



When Bible doctrine that separates becomes victimized by mis-information for the sake of success in the ministry.(This is different from the the tares mingled among the wheat which every generation has struggled with because these Laodicean harvesters only go after the numbers and success.)



Their focus is on bushels/acre rather then what the bushels contain. They willingly lose sight of true conversion in favor of success for their personalChristian endeavors.(The old concept of a single combine working a field is replaced by a juggernaut of expensive custom combines wheel to wheel sweeping the countryside.)



We should expect to see bigger and bigger popular endeavors (like 700 Club, Promise Keepers, hyped spectaculars of all sorts etc.) that make and need millions and millions to exist (must be rich).



Rich is not loosely applied to those characterized as Laodiceans.



To these Laodiceans a David Livingstone, William Cary, or Hudson Taylor would be something for exploitation not emulation. (Going out singly with little or nothing to accomplish the impossible.)



The doctrine of these great missionaries that refined and exposed truth would be presented as their weakness and negativity in the Laodicean Church. They would be looked at as driving away sinners by their strict adherence to God's Word.



The phrase "neither cold nor hot" could never be applied to those great missionaries of the past who, on the contrary, fired up the stuffy Churches of their day, and prevented them from drifting into lukewarmity.



Today there are still like-minded fundamental missionaries emulating those Saints of old, and going out to serve independently with little or even no support.
They paint houses, cut firewood, and fix roofs to feed their families. But mostly, for the privilege of serving the Christ whom they love.
I know them personally. I pray for them every day.
There are probably too many of them?. How many of those willing individuals did your Church and mine turn away these past years?
Missionary budgets are limited. Who could give support to every sound missionary willing to go?
Why do missionaries spend years trying to build support that often comes far short of their needs? Maybe it's because all the support money is consumed by the big efforts aimed at millions at a time, rather then the personal one at a time method of the past? Many old fashioned missionaries just go out on the field by God's grace after fruitless years of deputation in the richest country on the face of the earth.
In a day where being part of something big, and having lots of success is promoted as the only way to get the job accomplished, there are still many who go with only a prayer because nothing is left for them. They won't sacrifice truth for success. They won't deceitfully hype God or their ministry for the itchy ears of the modern potential supporter. These are truthful servants.
In a way, I guess I answered the question - can a true fundamentalist survive the Laodicean Era. I suppose there will always be true fundamental missionaries/pastors/lay people, working in the fields of sin until the rapture takes place. Supported or unsupported, God always takes care of them. They will never be "mainstream" in the Laodicean Church. They will be unpopular because their doctrine will prove what's in the bushel, and they will always be checking the truth of their harvests. They are truthful servants.



While John was at Patmos, the Local Church of Laodicea was exposed for all it's faults. At the same time down the road, there existed the Local Church of Philadelphia. I believe true fundamentalism is exemplified by the Church of Philadelphia, and can exist in an age dominated by the Laodiceans. It won't be "mainstream," and it won't be popular, but it will, in love, make distinction between the saved and the unsaved. Their harvest, whether big or small, will be sifted by sound fundamental Biblical doctrine. They will stand on Biblical doctrine with NO compromise for sinner or saint.
They won't be hard nosed like the Church of Ephesus which applied good doctrine, but lost their first love.



These will be the overcomers who have learned to balance steadfast, uncompromising doctrine with a love for the lost and the immature
.
These true fundamentalists will minister even when only one or two families out of a whole community support their unpopular stand. They will rarely be a majority in the communities they serve.



They will be forced, because of doctrine, to say NO to almost everything coming out of the Laodicean Church (like the popular Charismatic Movement of today). The popular Christian things of mainstream Christianity will be exposed as a false harvest of tares. It won't make for being popular in the Laodicean Church.



I'm sure many fundamental missionaries will think just as Elijah that they stand alone in their fields of ministry.



The true fundamentalist will shed more and more tears as the rapture approaches. A round peg in a square hole is nothing compared to ministering during the reign of Laodicea. In the end a few will have stayed the course. They will probably be more mutilated from the Laodicean Church then from the world, flesh, and Devil, but they will have overcome.
A pillar in the temple of my God is how John put it to the Philadelphians. Now that's my kind of peg! Not a bad end for an overcomer living through the Laodicean era!

.
Return to Table of Contents:
---
Last Updated August 9, 1996 by DDSrail