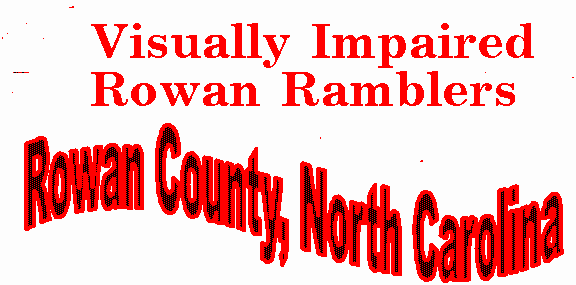 Contact us:
Renita Ritchie

Rowan County Parks and Recreation Department

3541 Old Mocksville Road, Salisbury, NC. 28144

Phone: 704-216-7780

E-Mail ritchier@co.rowan.nc.us
Requirements:

Visual Impairment covers a wide variety of conditions. You do not need to be legally blind!

You must live within Rowan County for free transportation, but all are welcome from outside the county.
---
Sighted Helpers:
We have some of the prettiest co-eds from Catawba College that do their internship with us, and yes ladies the fellows are handsome brutes.

We also have a professional staff that work with the Rowan County Parks and Recreation Department who provide the tender care we just relish.

Our group has sighted family members who also often attend.
---

The "Rowan Ramblers" is part of the Rowan County Parks and Recreation Department.

We go somewhere almost every Wednesday afternoon.

We have a planning meeting once every four months to plan the activities for the next four months.

Our activities vary stirred often by the challenge "blind people can't do that."

Putt-putt golf, bowling with rails for some, fishing, eating out, plays, tours, boat rides, eating, trolley rides, musicals, eating BBQ, and we are recently talking about forming our own Lacrosse team. Next winter it may be hockey? Some of us think we are getting very proficient with our canes. Come, and watch the more daring make good on their braggadocio.

It is almost all free with door to door transportation provided through the Rowan County Parks and Recreation Department for those who live in Rowan County.
---
Coming Events for the Rowan Ramblers:
RAMBLERS SUMMER SCHEDULE 2007

July

Wednesday July 11, noon - 5PM

Eat at Logan's Roadhouse - Shopping at Sam's Club

Wednesday July 18, 2PM - 4PM

Watermelon/Cantaloupe feed - Dan Nicholas Park

Tuesday July 24, 7PM - 10PM

Play at Meroney - "Crimes of the Heart"

August

Wednesday August 1, 3PM - 5PM

Bowling

Wednesday August 8, 4PM-6PM

Out to Eat

Wednesday August 15, 1PM - 4PM

Pool Party

Wednesday August 22, 2PM - 4PM

Schedule Review

Wednesday August 29,

No Meeting
Courtesy Rules of Blindness
When you meet me do not be ill at ease. It will help both of us if you remember these simple points of courtesy.
1. Iím an ordinary person, just blind. You donít need raise your voice, or address me as a child. Donít ask the person Iím sitting with what I want - ďcream in coffee?Ē - Ask me!

2. If Iím walking with you, donít grab my arm, let me take yours. Iíll keep a half-step behind to anticipate curbs and steps. Donít pull! Should you lose me, it is up to you to find me. Iíll stop, and back up to a wall where Iíll wait.

3. I want to know who is in the room with me. Speak when you enter, introduce me to the others. Include children especially rug-rats, and let me know of any cats or dogs. Guide my hand to a chair.

4. The door to a room, cabinet, or to a car, left partly open is a hazard to me.

5. At dinner, I will not have trouble with ordinary table skills.

6. Donít avoid words like ďsee.Ē I use them too! ďGlad to see you.Ē

7. I donít want pity! Donít talk about the wonderful compensations of blindness. My sense of smell, touch, or hearing did not improve when I became blind. I rely on them more, and therefore may get more information through those senses then you do - thatís all.

8. If Iím your houseguest, show me the bathroom, dresser, closet, window, and light switch too. I like to know if the lights are on?

9. Iíll discuss blindness with you if your curious, but itís an old story to me. I have as many other interests as you. There are lots of subjects to talk about.

10. Donít think of me as a blind person. Iím just a person who happen to be blind.
In all 50 states the law requires drivers to yield the right of way when they see my extended white cane. Only the blind may carry white canes.
---
Isaiah 42:16

וְהוֹלַכְתִּי עִוְרִים בְּדֶרֶךְ לֹא יָדָעוּ בִּנְתִיבוֹת לֹא־יָדְעוּ אַדְרִיכֵם אָשִׂים מַחְשָׁךְ לִפְנֵיהֶם לָאוֹר וּמַעֲקַשִּׁים לְמִישׁוֹר אֵלֶּה הַדְּבָרִים עֲשִׂיתִם וְלֹא עֲזַבְתִּים׃

And I will bring the blind by a way that they knew not;

I will lead them in paths that they have not known:

I will make darkness light before them, and crooked things straight.

These things will I do unto them, and not forsake them

KJV

---